Escalating violence takes its toll on Israelis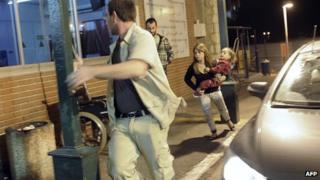 There are loud booms overhead as missiles fired by a battery of Israel's Iron Dome defence system intercepts another incoming rocket fired from Gaza.
The white streaks of vapour trails light up the night sky over Ashkelon.
Normal life here remains on hold. The streets are eerily quiet. Most restaurants are closed or largely empty.
Just three friends sit at one table on the street outside a small eatery, sharing a plate of hummus.
"I'm trying to live as I did before these conditions," says Shimi, a factory worker. "Everybody on my shift came to work. Maybe nine or 10 rockets exploded in the sky above us. We were afraid," he admits.
But elsewhere in this city of over 100,000 people, schools and many businesses have been closed.
In the main shopping centre, Giron Mall, which has over 200 stores, only a coffee shop and the pharmacy opened their doors.
'Big damage'
The mayor of Ashkelon, Benny Vaknin, surveys the scene from his office across the street.
"All the commercial centres in the city are closed. Thirty per cent of the workers didn't come to the municipality. Many are parents, many are afraid. This is causing very big damage to the economy of the city," he tells me.
Yet he insists there is wide support for what the Israeli military is calling Operation Pillar of Defence after Palestinian militants launched many rockets from Gaza in recent weeks.
"We are ready to suffer in order to tell the government that they must stop the violence of Hamas. They must protect us. We can't continue in this situation," he says.
The Israeli military's superior fire power and expensive Iron Dome system - introduced early last year - ensures that any conflict with Gaza remains largely asymmetrical.
Yet in a religious neighbourhood of Kiryat Malachi, locals had a painful reminder of the toll that it can still exact on their side.
A rocket left a vast jagged hole in the top floor of an apartment building and killed three of the residents there.
"I was just in my house and I heard the siren so I went down to the basement to cover myself and afterwards I heard people got killed. It's very sad," said a neighbour, Moses who was planning to leave for northern Israel with his parents for a few days.
"I hope everything will stop on their side, on our side. But they won't stop. We live in fear," he said.
Rushing for cover
Another woman also felt the danger.
"Normally we see on TV that the rockets only landed in open ground. Now it's very close, on my street," she said.
"My sister lives next door. We know the people who got killed. Now my feelings have changed because it's here. I feel such pain."
Yet she insisted she would remain at home.
"I was born in Kiryat Malachi, I married here, all my family is here. I will die here," she told me. "It is very important as a symbol that we stay."
Sirens warning of incoming rocket fire continued to sound in the town throughout the day, as they did across much of southern Israel. Each time people could be seen rushing for cover in shelters.
About one million Israelis live in the south of the country and are well-practised in such safety measures.
Yet the focus of the Israeli night-time television news was the possible widening of this conflict to affect the country's biggest city and main commercial centre, Tel Aviv, where the alarm also sounded earlier.
There were no reported injuries but two rockets, apparently with a longer-than-usual range, landed nearby.
With national media also reporting the movement of Israeli troops towards Gaza and the authorisation of the call-up of reservists, there are growing signs of a further escalation in fighting.