Gaza: What is Israel's military strategy?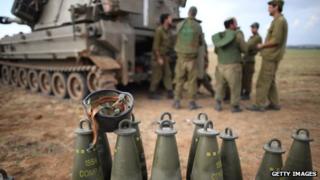 Israeli officials say the military has broadened the scope of its operation in the Gaza Strip and is preparing for a ground offensive in case one is ordered.
On Friday, the cabinet authorised the call-up of up to 75,000 reservists, although so far only about 20,000 have been contacted.
So what is Israel's military strategy?
Its offensive, which is being called Operation Pillar of Defence, began on Wednesday when the head of the Hamas armed wing, Ahmed Jabari, was killed in his car in Gaza City.
Since then, the assault against Gaza has been conducted through a remote campaign of air strikes, naval artillery and tank fire across the border.
More than 1,100 targets have been hit. The Israel Defense Forces say their objective is to stop rocket fire by militant groups in Gaza into Israeli towns and cities.
Late on Sunday, Israel's Deputy Prime Minister Moshe Yaalon told journalists that Hamas, which governs Gaza, had to satisfy Israeli demands.
"It's up to them to make up their mind whether it is worse to go on with these rogue activities - firing rockets and terror activities," he says.
"We are looking for this kind of ceasefire which will bring about peace and quiet. We don't claim to topple Hamas, this not our objective. It is to deter them."
But so far, rocket attacks from Gaza have continued.
There have been more than 1,000 over six days; nearly 300 have been intercepted by the Iron Dome defence system, mostly over southern Israel.
However, new longer-range missiles have approached Tel Aviv and Jerusalem.
Close to the Gaza border, there has been a build-up in Israeli troops, and there are columns of armoured vehicles.
"We came to help with whatever is needed," said one soldier close to the town of Beersheba. "I left everything at home and just came," added another who admitted being "a bit excited".
But that enthusiasm, and with it Israeli public support, could soon dry up if a ground invasion of Gaza took place.
This would involve Israeli forces in urban warfare, seeking out weapons storage and assembly sites. The risk of casualties on both sides would greatly increase.
Avoid escalation
Leading defence correspondent Alex Fishman, who works for Israel's biggest circulation newspaper, Yedioth Ahronoth, says the offensive does not come out of the blue.
"There were plans for these events months in advance, so strategically it wasn't a surprise," he says. "The timing was due to what Hamas was doing along the Israeli and Egyptian borders, and then there were troubles the last couple of weeks.
"We are still on the first chapter, the aerial operation, which used precise weapons systems and the navy, towards targets that were stockpiled before by the army and intelligence.
"The next stage will be much more difficult because the air force will bombard the civilian areas. They keep a lot of rockets among civilians.
"The third stage will be much brutal bombardment, the ground forces invasion, [but] I believe that we won't reach this stage. The political and military leadership are not eager to go to such an elevation."
Mr Fishman argues the green light to call up large numbers of troops was important to apply diplomatic pressure, but does not mean that a wider operation was planned.
"75,000 was like giving the army the credit in the bank that it needs," he says.
"When this was published, it made a very strong impression. Foreign diplomats started to call and ask: 'Are you serious?'"
There are currently two tracks being followed in this conflict - one military and one diplomatic.
Egyptian officials have indicated there are signs of progress in ceasefire negotiations that Cairo is trying to broker between Hamas and Israel.
However, Israeli generals and politicians will not want to stop their assault in Gaza until they can prove they have virtually eliminated the threat of further rocket fire.
Meanwhile, Hamas is still looking to score some symbolic strikes in response to the death of its military commander.