Mahmoud Abbas pursues Palestinian UN bid after Gaza conflict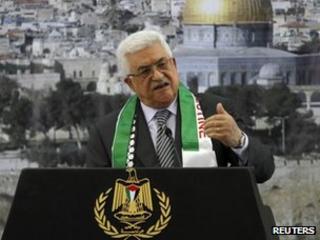 A long list of Arab leaders visited the Gaza Strip in the past week as it faced the fiercest fighting with Israel in four years.
However, one name was notably absent - that of Palestinian Authority President Mahmoud Abbas.
He has not visited Gaza since his political rivals, Hamas, won legislative elections and then took over the territory by force five years ago.
As Hamas now celebrates what it sees as the victory of its militants over Israel and promises to ease movement restrictions in the Palestinian territory, Mr Abbas risks losing credibility.
He and his Fatah movement, which governs the West Bank, are now under greater pressure to proceed with a risky diplomatic course of action - asking the United Nations for an upgrade to the Palestinians' status.
At Birzeit University in the West Bank, political science students are discussing the implications. Many believe the president was sidelined in recent days.
"This war proved the weakness of Mahmoud Abbas. He wasn't involved in anything that happened," says Abdulmajid Darawish.
"The one making decisions was [the head of Hamas], Khaled Meshaal. This was the second war in Gaza in which the Palestinian Authority and Fatah weren't involved."
"We were all expecting that he would go to Gaza," adds Maisa Salem. "He has to support the people and show that he's the president of all the Palestinians in the West Bank and Gaza."
Western ally
Visiting officials, including UN Secretary General Ban Ki-moon and US Secretary of State Hillary Clinton, came to Ramallah to discuss the Gaza crisis with Mr Abbas.
The West, which sees Hamas as a terrorist organisation, regards the Palestinian Authority president as its chosen partner for peace.
Yet, many Palestinians point out that he has not got much to show for it.
Talks with Israel stalled two years ago over the issue of Jewish settlements on occupied land that the Palestinians claim as part of a future state.
At this year's United Nations General Assembly, Mr Abbas announced his new plan. He has asked for a vote, as soon as 29 November, to admit the Palestinians as a non-member observer state.
It is expected that he will get the two-thirds majority that he needs to achieve this.
The Palestinians hope they will then be given access to international courts where they can challenge Israeli actions.
Presidential adviser Sabri Saidam believes this is the only way forward for Mr Abbas. "He came out of the Gaza war definitely more adamant to go to the United Nations," he says.
"He knows quite well that some countries will oppose the vote but it's a Palestinian move in the right direction, taking this conflict from being the Palestinians versus the Israelis to the international community versus the Israelis."
Angry outbursts
Daily protests took place across the West Bank during the Israeli military offensive in Gaza.
There is a sense in which the conflict brought Palestinians together with more calls for reconciliation between political factions
In a significant new development, Hamas and the militant group Islamic Jihad say they will back the UN bid.
Back at Birzeit University, politics professor George Giacaman argues that the move can be seen as a form of diplomatic resistance.
"Different forms of resistance can be used at different times. The fact that the occupation has lasted so long... shows that a different tactic is required," he comments.
"As an observer state it will be possible for the first time now to join various UN fora and also committees whereby it it will be possible to press charges of Israeli war crimes. This is an important card that President Abbas can play."
If Mr Abbas does succeed at the UN, Palestinians are likely to return to the streets to celebrate, as they did last Wednesday when a ceasefire deal was announced with Israel. His popularity would be boosted.
However there would be consequences too. The US is strongly opposed, as Mrs Clinton reminded the Palestinians leader when they met this week.
Israelis have warned that such a move would render that the 1993 Oslo peace accords would be rendered null and void.
Mr Abbas must make a difficult calculation to decide whether creating another crisis is worth the opportunity it could present.