Egypt: President Morsi's political gamble
By Jon Leyne
BBC News, Cairo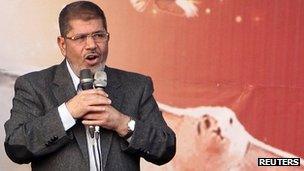 Egyptian President Mohammed Morsi's decision to take sweeping new powers is a huge political gamble that has divided Egypt.
The move was announced the day after the Gaza ceasefire, which the Egyptian leader helped to mediate.
Buoyed by international praise for that effort, President Morsi tried to consolidate his power at home.
But he may have been guilty of a degree of over-confidence, or political naivety.
The president said he was acting to protect the revolution.
Specifically, he wanted to prevent the courts from disbanding, for a second time, the assembly that is writing the Egyptian constitution.
There were reports that the courts might be about to do this.
That could seriously derail the transition to democracy, further delaying new parliamentary elections, which could deter Egypt's political leaders from taking tough decisions while they wait for the vote.
Most of the judges were appointed during former President Hosni Mubarak's time in office.
They were not direct political appointments, but many Egyptians suspect they are still loyal to the old regime.
The same applies to the prosecutor-general, whom the president sacked.
His replacement moved quickly to re-open criminal investigations into the former president, his family, and former regime officials.
A series of trials for corruption, and for the killings of protesters during the revolution, have so far had only mixed results, raising questions about the loyalty of the prosecutor, though Hosni Mubarak himself is serving a long prison term.
On both of these issues, President Morsi will have the support of many Egyptians.
But it is the way he has gone about it that has aroused such fury.
The president failed to consult with other political forces, acting in an autocratic manner reminiscent of his predecessor.
Indeed, he has taken more power than Hosni Mubarak ever claimed, with almost no constraints at all.
And his attempt to sideline the judiciary is reminiscent of the early power-grab of the Free Officers in 1954, the beginning of what is now being seen as six decades of military dictatorship in Egypt.
As a result, many Egyptians fear the real agenda is not to protect the revolution, but to increase the power of President Morsi, and of the Muslim Brotherhood, the Islamist movement from which he comes.
In particular, there is an accusation that the underlying aim is to enable the constitutional assembly - currently dominated by Islamists - to write an Islamist constitution for Egypt.
That is why President Morsi's move has produced such bitter, and potentially dangerous, divisions in the country.
This could turn into a battle between Islamists on the one side, and, on the other, secularists, liberals, and Christians. So there is even a fear of this turning into a sectarian struggle.
Those fears may be exaggerated. But there is no doubt that this is an important moment for Egypt.
It is a titanic struggle for the future direction of a country that, so often, shows the way for the rest of the Middle East.