Deadly Baghdad bombs target Shia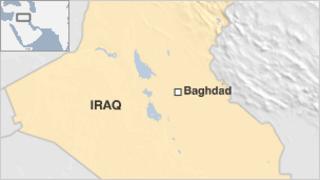 At least 19 people have been killed in three separate bomb attacks in predominantly Shia Muslim areas of the Iraqi capital Baghdad, police say.
Dozens of others were wounded in the blasts near Shia mosques in the north and north-east of the city.
No group has said it carried out the attacks, but Sunni militants have targeted the Shia majority in the past.
Although violence has decreased in Iraq since its peak in 2006 and 2007, insurgent attacks are still common.
The latest attacks come as Shia all over the world mark Ashura, the climax of the holy month of Muharram.
This year's upsurge in violence has sparked fears of a return to the sectarian conflict that beset Iraq in the years after the 2003 US-led invasion.
The Islamic State of Iraq, a Sunni militant umbrella group and al-Qaeda affiliate, has carried out many recent bombings.