Palestinian 'with axe' killed by Israeli forces in West Bank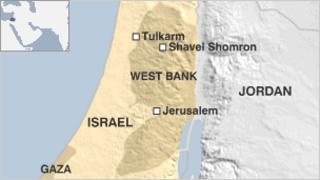 Israeli security forces have shot dead a Palestinian man in the West Bank.
Details are unclear, but an Israeli police spokeswoman said the man had approached them wielding an axe.
Reports say the man had been driving a car between the settlements of Shavei Shomron and Einav, raising the suspicions of the security personnel.
They began chasing him and his car collided with their own vehicle, which then overturned. The man is then said to have come towards them with the axe.
Two of the security personnel were lightly injured in the crash.
AFP news agency reports that Israel's internal security agency, Shin Bet, has acknowledged that a number of its agents were involved.
Earlier, Israeli police had said the army vehicle was carrying soldiers.
Palestinian security sources told AFP they had been informed of the incident, but that it had taken place inside a closed military zone.
They identified the man as Hatem Shabib, and said he was from a village near the northern West Bank town of Tulkarm.