Kuwait Prime Minister Sheikh Jaber al-Sabah reappointed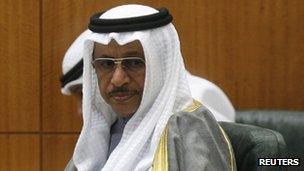 The emir of Kuwait has reappointed Sheikh Jaber al-Mubarak al-Sabah as prime minister, after a parliamentary election boycotted by the opposition.
He had submitted the resignation of his five-month-old cabinet to Emir Sheikh Sabah al-Ahmed al-Sabah on Monday, as required by the constitution.
Sheikh Jaber must form a new government before parliament sits on 16 December.
The opposition boycotted Saturday's polls in protest at electoral law amendments made by the emir in October.
The changes included a reduction in the number of votes cast by each Kuwaiti from four to one. Critics said they were unconstitutional and gave pro-government candidates an advantage.
More than half of the candidates elected to the National Assembly were new, results released on Sunday showed. Shia candidates won about a third of the seats and women three.
Turnout was 40.3%, the lowest since elections were first held in 1964.
Sheikh Jaber, a 70-year-old former defence minister, became prime minister in late 2011 after his predecessor, Sheikh Nasser al-Mohammad al-Sabah, resigned amid a crisis over corruption allegations.
He was reappointed following snap parliamentary elections in February, in which the Islamist-led opposition made significant gains.
Relations between the government and opposition deteriorated in June when the Constitutional Court declared February's polls illegal and reinstated the previous parliament.
In October, the emir called snap elections and amended the electoral law despite calls from opposition leaders not to do so. The authorities banned public gatherings of more than 20 people after widespread protests.