Gulf states face hard economic truth about subsidies
By Bill Law
Middle East analyst, BBC News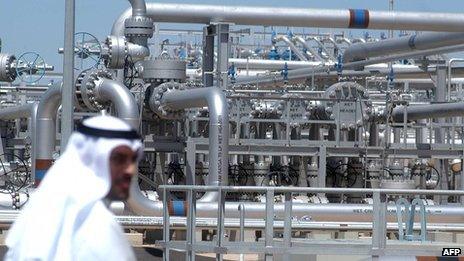 The security and stability of the six-member states of the Gulf Co-operation Council (GCC) rests on a basic assumption.
Their governments, run by royal families, have a social contract with the people that in its simplest terms effectively says: "In return for your acquiescence we will provide health, education, water, energy and other services virtually free."
But what happens if the governments are no longer able to fulfil their side of the contract?
What happens if the cost of subsidising all those services becomes too high to be sustainable?
That question has caught the attention of Jim Krane, a Gulf analyst at the Judge Business School of the University of Cambridge.
He was drawn to an astonishing figure about the price of electricity in Kuwait.
"In 1966, Kuwait dropped its electricity tariff from 27 fils per kWh to 2 fils and it has remained the same ever since. That is about 1 US cent," he told the BBC.
In the UK, electricity costs about 12p ($0.19) per kWh.
In the nearly 50 years since the 2 fils rate was set Kuwait, like the other GCC states, has gone from an impoverished, underdeveloped desert backwater to a high-tech country with sprawling malls, high-rise towers, large homes, fast cars and huge industries built around extracting and refining hydrocarbons.
Kuwaitis enjoy one of the highest standards of living in the world. They have excellent health and education facilities.
In the midst of a desert, they have an abundance of very cheap water. They live in a constantly air conditioned environment.
And underpinning this comfortable lifestyle are hugely subsidised energy rates.
The GCC states - Saudi Arabia, Kuwait, Bahrain, Oman, Qatar and the United Arab Emirates - have some of the fastest growing populations in the world.
An Economist Intelligence Unit (EIU) report says that by 2020 the total population of the Arab Gulf states, including Yemen, is forecast to increase by a third, to 53 million people. The vast majority will be under 25 years of age.
Those resident in the GCC will have huge and rising expectations that their governments will struggle to meet. Expectations about jobs and subsidised housing, about free or virtually free services continuing for them and for their children.
And in order to meet those expectations, the governments will continue to do what energy analysts say they have been doing for the past several years: cutting back on hydrocarbon exports sold on the global market.
A Deutsche Bank report published in February of this year analysed the links between subsidies and domestic demand worldwide noting "subsidies have been instrumental in driving a very material increase in domestic demand".
Increasingly, the royal families are faced with using some of the oil and gas intended for export to fuel the power stations generating the subsidised electricity that helps to underpin the social contract.
With prices set so artificially low, consumption has grown by leaps and bounds. There is very little of a conservation mentality in the Gulf states.
Kuwait's electricity rates are so negligible that people often do not even bother to pay. And there are no repercussions. The state simply picks up the tab.
Mark Lewis, the managing director of commodities research at Deutsche Bank, says that all fits a pattern.
"Where subsidies are high, there is a rapid increase in domestic consumption and Kuwait has the dubious distinction of having the highest rate of subsidised fossil fuels anywhere in the world," he told the BBC.
Mr Lewis, co-author of the Deutsche Bank report, calls it a "vicious circle", where ever-rising domestic energy demand driven by huge subsidies means less oil and gas will get to foreign markets.
That means less revenue for Gulf governments who have significantly increased social spending to fulfil their end of the social contract.
It also means that the cost of balancing Gulf budgets keeps edging closer to the global price for a barrel of oil.
Currently, it is estimated that to meet their social contracts GCC countries need to take $80 (£49) out of the $110 (£68) they are paid for each barrel.
Jim Krane has analysed energy policy in the GCC countries. Oil revenues, he notes, are the "bedrock" of these states.
He says the royal families are in a bind. Politically, they do not want to antagonise their people, he adds, so one of their responses to unrest during the Arab Spring was to open the bank vaults and dramatically increase public spending. Salaries, benefits and the number of government jobs rose exponentially.
Oman, for example, increased subsidies, salaries and benefits and created 50,000 jobs - most of them in the public sector - at an estimated cost of $2.6bn (£1.6bn).
But according to Mr Krane this approach is further proof that the Gulf states are "cannibalising their economic base and undermining their political structures".
"It is a trap of their own making," he says.
Most economists in the Gulf, even those who work for the royal families, do not disagree with such an analysis.
Despite that, efforts to curb domestic consumption by reducing subsidies have been patchy at best.
Dubai has a split tariff for example, charging expatriates a higher rate than their own citizens. But that is an exception to the rule. Elsewhere efforts to bring tariffs somewhat closer to economic reality have fallen flat.
As one Kuwaiti government official told the BBC: "Every opportunity so far has been missed. Painful political courage is needed and so far we are not seeing it."
Kuwait, of all the Gulf states, has advanced furthest down the road toward democracy. But a fractious and unruly parliament with a strong populist element is unlikely to agree to the downgrading of subsidies, even if the country's rulers were to push for it.
So what options do the royal families have to meet an energy challenge that is already putting severe stress on the social contract?
Alternative energy sources, such as solar, are one way forward.
But unless new and existing housing and commercial stock are brought to the highest energy-efficiency standards, the GCC states will continue down the unsustainability road.
Mike Wood is a consultant with the Kuwait's ministry of electricity and water. He says that decades of subsidy, now amounting to over 90% of cost of production have destroyed all consumer incentives to construct and operate buildings efficiently.
He told the BBC that more than 10% of Kuwait's national oil production was now being directed to domestic use and that figure was predicted to rise to more than 20% by 2030.
"There is an urgent need, not yet sufficiently supported by organisation and financing mechanisms, to construct new and to retrofit existing stock to be as efficient as possible," he says.
The potential savings are more than 50% on new buildings and 25% on existing ones.
Alternative supply-side energy measures are less significant, but Kuwait is now pursuing renewable energy sources, particularly solar, with the aim of generating 15% of the country's needs by 2030.
But time is at a premium.
Mr Wood says that increased government spending on benefits to citizens and ongoing development plans are driving the oil price needed to balance the budget ever closer to present market price. He calls the situation "worrying and unsustainable."
Nuclear power is the other option. Saudi Arabia is actively pursuing it and the UAE will have a nuclear plant coming on stream in 2017.
But in Kuwait well-advanced plans for nuclear plants were abruptly shelved after last year's disaster in Japan. According to a Kuwaiti source, the government "panicked".
Planners and economists in the Gulf are well aware of the need to come to grips with the subsidy dilemma.
But governments are unlikely to move on that front as long as global oil prices remain high, especially as most of them still have huge fiscal reserves they can draw on.
Ironically, by cutting back on hydrocarbons available for sale on the global market, the Gulf states are helping to ensure that prices stay high.
That means crucial decisions can be postponed. At some point though there will be a reckoning.
The IMF has said that Kuwait will have exhausted all its savings by 2017, if it keeps on spending money at the current rate.
And if oil prices do suffer a sustained drop, then every GCC country with the exception of gas-rich Qatar will find itself either forced to drastically cut subsidies and public spending, or deplete cash reserves to meet its social commitments.
Deutsche Bank's Mark Lewis says sustained low oil prices "could really hurt", but that it will probably not happen.
Others, Mike Wood among them, argue that a global oil surplus and increases in supply, mainly from Iraq and the US, make a fall in price probable.
At least for now high oil prices allow the royal families to play a short game.
However, as one analyst put it: "They are not looking down the track far enough. The time to talk about sustainability and subsidies is now."
And the concern is that if they do not soon start taking a long view, the royal families could soon face uprisings which they have so far largely avoided.
Related Internet Links
The BBC is not responsible for the content of external sites.