UAE authorities 'detain 18-year-old blogger'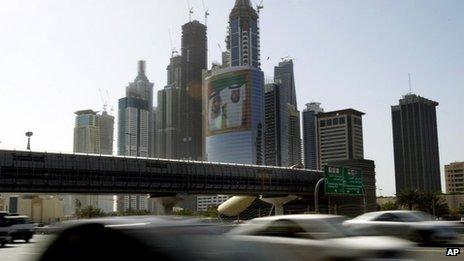 An 18-year-old blogger has been arrested in the United Arab Emirates, human rights activists say.
Mohammed Salem al-Zumer was reportedly detained by state security officers in the emirate of Sharjah on Wednesday and taken to an unknown destination.
He was said to have posted comments online supporting detained activists.
Last month, the UAE tightened its law on internet use, making it an offence to deride or damage the state or its institutions and organise protests.
Human rights groups have said the legislation places severe restrictions on the rights to free expression and free association and assembly.
The UK-based Emirates Centre for Human Rights (ECHR) said Mr Zumer was driving a car in Sharjah when it was stopped by security personnel.
He was escorted to his home, which plainclothes officers searched for more than an hour, seizing a laptop and other equipment, it added.
His family told the ECHR that he was taken to an unknown destination.
Officials have not confirmed that Mr Zumer has been detained, although one reportedly told his family that he would be released by Saturday.
Mr Zumer is the son of a poet and the nephew of Khaled al-Sheiba al-Nuami, who was detained earlier this year along with more than 60 other civil society activists. Some of whom have ties to Islah - a local group that advocates greater adherence to Islamic precepts.
Government and police officials have said the crackdown is a response to a foreign-inspired Islamist plot that aims to overthrow the government.
A human rights activist in the UAE, who did not want to be named, said Mr Zumer had expressed his support for the detained activists.
"He was arrested because of his association with the detainees and his activities online," the activist told the BBC.
Related Internet Links
The BBC is not responsible for the content of external sites.