Deadly clashes in Lebanese city of Tripoli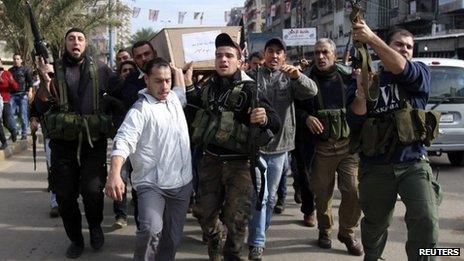 Six people were killed and at least 40 injured in the Lebanese city of Tripoli in clashes on Sunday between opponents and supporters of Syria's president.
Since Tuesday, 19 people have died in the fighting between residents of the Alawite district of Jabal Muhsin and the Sunni Muslim Bab al-Tabbana area.
Sectarian tensions in Tripoli have been aggravated by the conflict in Syria.
The latest violence began after some 14 Sunni men from the area were killed by Syrian troops in a Syrian border town.
The group of Lebanese and Palestinian nationals appears to have joined the armed rebellion against Syrian President Bashar al-Assad.
Syrian state TV broadcast footage of their bullet-ridden bodies, prompting their families to stage a demonstration demanding their repatriation.
An agreement was eventually reached by the Syrian and Lebanese authorities for the bodies to be returned gradually, with the first three being handed over for burial on Sunday.
The Lebanese army deployed additional troops in parts of Tripoli on Friday in an effort to end the fighting, but they failed to stop people in Jabal Muhsin and Bab al-Tabbana firing machine-guns and rocket-propelled grenades at each other from dawn on Sunday.
Tripoli is Lebanon's second largest city, with a population of 200,000. It has a small Alawite community living in the midst of a Sunni majority.
President Assad is an Alawite and members of the heterodox Shia sect occupy key positions in the Syrian government and security forces.
Syria's majority Sunni community bore the brunt on the violent crackdown on protests and has been at the forefront of the armed uprising against the state, which activists say has left more than 40,000 people dead.