Israeli military raids offices of Palestinian NGOs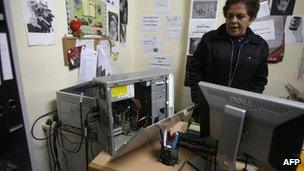 The Israeli military has raided the West Bank offices of three Palestinian non-governmental organisations.
One of the groups, Addameer, said troops had entered its premises in Ramallah at 03:00 (01:00 GMT) and confiscated laptops and a video camera.
The office was "destroyed" and filing cabinets "ransacked", it added.
The Israeli military said the NGOs were linked to the Popular Front for the Liberation of Palestine (PFLP), which Israel considers a terrorist group.
"Soldiers searched several offices in Ramallah which were affiliated with the Popular Front organisation," a spokeswoman told the AFP news agency.
"We don't know that they were Popular Front offices, but they were affiliated with a terror organisation."
Last month, the PFLP's armed wing said it had fired an anti-tank missile attack at an Israeli army jeep patrolling the Israel-Gaza border fence, injuring four soldiers. Responsibility for the attack was also claimed by another group.
In addition to Addameer, which works on behalf of Palestinian prisoners in Israeli jails, the Israeli military also searched the offices of the Union of Palestinian Women Committees and the Palestinian NGO Network.
Addameer said the raids were an "attempt to cripple solidarity with the prisoners' movement", while the Palestinian NGO Network connected them to the decision by the Palestinians to seek UN non-member observer state status at the UN, which Israel had strongly opposed.
Nour Odeh, a spokeswoman for the Palestinian Authority, which governs in the West Bank, told AFP that the raids were part of an Israeli policy of "pursuing human rights activists and defenders of the law who expose... systematic and continued Israeli violations".
Two Palestinians have been killed in a series of deadly clashes between protesters and Israeli soldiers in the West Bank since Israel launched an eight-day offensive on the Gaza Strip on 14 November.
It said the offensive - codenamed Operation Pillar of Defence - was aimed at stopping Palestinian militants firing rockets at its territory.
Related Internet Links
The BBC is not responsible for the content of external sites.