Iran hails progress in nuclear talks with IAEA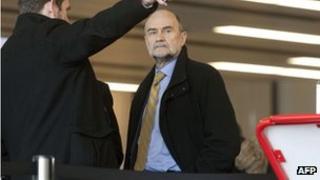 Iran says progress has been made at key talks with the International Atomic Energy Agency (IAEA) in Tehran.
Iran's ambassador to the IAEA, Ali Asghar Soltanieh, said the meeting had been constructive and more talks would be held back in Tehran next month.
The IAEA has not commented, nor is it known whether it gained access to the Parchin military complex, as requested.
The IAEA is investigating "possible military dimensions" to Iran's nuclear programme.
The IAEA's chief inspector, Herman Nackaerts, is expected to issue a statement on returning to Vienna on Friday morning.
'Extensive activities'
Tehran has vehemently denied that it is trying to produce nuclear weapons, but has for seven years refused IAEA inspectors access to Parchin, where the agency believes explosives tests with potential nuclear elements may have been conducted.
The IAEA complained last month that "extensive activities" had been observed at Parchin including, according to Western satellite images, the wholesale replacement of soil at the complex, which Iran insists is a conventional weapons testing ground.
In its latest report, published in August, it said it was unable "to conclude that all nuclear material in Iran is in peaceful activities".
Iran is under UN sanctions for its failure to cooperate fully with international inspections.
The European Union and the US have put in place additional sanctions which appear to be hitting the Iranian economy hard, causing the Iranian rial to fall sharply in October, sparking protests.
The US Treasury announced further sanctions on Thursday against seven more Iranian companies and five more individuals, freezing any assets they may have in the US.
"So long as Iran continues to pursue a nuclear programme in defiance of multiple UN Security Council resolutions, the US will target those involved in Iran's illicit enrichment activities," the Treasury Department said in a statement.
But Israel's Prime Minister Benjamin Netanyahu has warned that, despite the sanctions, Iran is only six or seven months from having "90%" of what it needs to make a nuclear bomb.