Egypt ex-President Hosni Mubarak back in hospital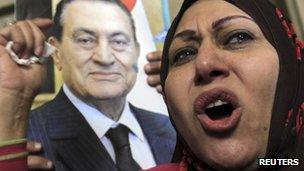 Jailed former Egyptian President Hosni Mubarak has returned to hospital after his health again deteriorated, judicial sources say.
The Egyptian state prosecutor ordered the 84-year-old to be transferred to Maadi military hospital. There are no details about his condition.
Mubarak is serving a life sentence for failing to prevent the killings of protesters in demonstrations in 2011.
He spent a month in hospital in June after reportedly falling into a coma.
Last week he was examined at Maadi hospital after hurting his head in a fall in his prison bathroom.
Mubarak ruled Egypt for three decades before being ousted following 18 days of street protests across Egypt in 2011.
He was convicted in June this year, but has spent much time before and since his trial in hospital.
He has appealed against his sentence and could be retried if the appeal is upheld.
A ruling is expected on 13 January.