Egyptian President Mohammed Morsi appeals for unity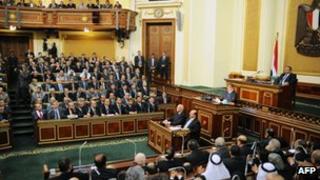 The Egyptian President, Mohammed Morsi, has appealed to Egyptians to work together to rebuild the country.
In a speech to the upper house of parliament, Mr Morsi said that after two years of turmoil, it was time for Egypt to turn to "production, work, seriousness".
Mr Morsi also called for an end to violence.
Egypt has endured a month of protests by both supporters and opponents of the new constitution approved this week.
The unrest, together with a weakening currency and a delay to a $4.8bn (£3bn) loan from the IMF, has left the Egyptian economy faltering.
But Mr Morsi said the country would not go bankrupt and said the economy had grown in the most recent quarter.
He announced plans to create jobs and investment in Suez and in Sinai.
The president defended the new constitution, which he said offered freedom for all people.
Critics have said it fails to guarantee women's rights and potentially limits the freedom of expression and freedom of worship.
The upper house, or Shura Council, has been granted temporary legislative powers, until elections for the lower house of parliament are held in two months' time.