Popular Egypt satirist accused of mocking president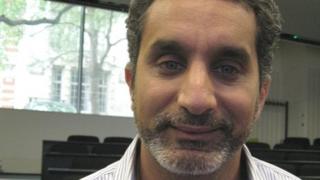 A popular Egyptian political satirist is being investigated by prosecutors for allegedly insulting the president.
A formal complaint was brought against Bassem Youssef for "undermining the standing" of President Mohamed Morsi in his television show.
Separately, an independent newspaper says it has been accused by the presidency of "circulating false news" and is being investigated.
The cases come amid increasing worries about press freedoms in Egypt.
Many journalists have joined critics of the new Islamist-backed constitution, saying it does not offer enough guarantees of press freedoms.
Witty lampooning
Bassem Youssef is a doctor who shot to fame after winning a huge number of followers with his witty lampooning of public figures in amateur videos posted on the internet following the uprising that ended Hosni Mubarak's rule.
He became a household name when his satirical show - likened to Jon Stewart's The Daily Show in the US - began to be broadcast three times a week on one of Egypt's independent satellite stations.
He has poked fun at everyone from fellow television presenters to well-known Muslim scholars and most recently President Morsi himself, the BBC's Shaimaa Khalil reports,
But sketches in which he portrayed Mr Morsi as a pharaoh, calling him "Super Morsi" for holding on to executive and legislative powers, and, separately, putting the president's image on a pillow and parodying his speeches have angered one Islamist lawyer, whose formal complaint has resulted in the investigation.
However, the BBC's Bethany Bell in Cairo says Youssef has been the subject of a number of complaints in the past, none of which have come to much, and the decision to open an investigation does not mean necessarily that he will be prosecuted.
Meanwhile, the independent al-Masry al-Youm newspaper said on Tuesday that Mr Morsi's office has filed a complaint accusing it of "circulating false news likely to disturb public peace and public security and affect the administration".
The paper said it related to an article in which "well-informed" sources were quoted as saying that Mr Morsi was due to visit the same hospital where Mr Mubarak is currently believed to be receiving treatment.
The story was subsequently updated to say that the visit had been cancelled and Mr Morsi's wife visited a relative at the hospital, the newspaper said.
However, a reporter and editor have been summoned for questioning, the paper went on to say.
Egypt's controversial new constitution, which became law last month, has sparked huge protests from opponents who say it favours Islamists and does not sufficiently protect the rights of women or Christians as well as press freedoms.