Q&A: Egypt's financial troubles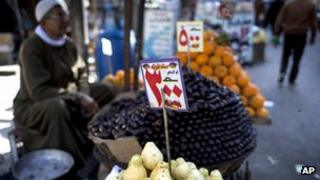 Egypt faces the threat of a currency crisis after the Egyptian pound hit its lowest level in eight years, in part as a result of the ongoing political turmoil.
The Central Bank of Egypt warned on 29 December 2012 that the country's reserves, needed to defend the local currency against devaluation, had reached a "critical level".
Egypt's reserves went down from $36bn before the uprising to $15.03bn in December 2012.
In the same week, the American credit rating agency Standard & Poor's (S&P) has downgraded Egypt's long-term credit rating to "B-".
What is the current situation of the economy?
Egypt is experiencing a marked slowdown in economic growth as well as rising poverty and unemployment.
A number of Egyptian economists have described the situation as a combination of two phenomena, stagnation and inflation, commonly known as "stagflation". Inflation is a result of the devaluation of the Egyptian pound while stagnation is due to the slowdown in production.
On 26 December, the privately-owned Al-Dustur newspaper website quoted economist Ala' Rizq as saying that more than 2,000 factories in the country have closed down since the uprising, while many others are not operating at full capacity.
What are the implications of the currency drop?
The inflation resulting from the devaluation of the Egyptian currency implies an increase in prices of commodities thereby hitting middle and low income families particularly hard.
The value of the government debts will also go up as a result of the devaluation, eating more into its remaining reserves.
Have political factors contributed towards the economic decline?
In short, yes. A report released by S&P on 24 December attributed the decline in reserves to political factors.
Controversial presidential decrees have impacted on the country's institutions owing to the polarisation that ensued between the ruling Muslim Brotherhood, from which President Mohammed Morsi hails, and the liberal opposition.
Frequent protests, which escalated in November and December, scared tourists away, sent investors packing and delayed negotiations with the IMF over a $4.8bn lifeline. This has created a sharp decline in the country's reserves.
Consequently, the ability of the government to provide strong and sustainable public finances has been weakened.
How significant is the credit rating downgrade?
The recent downgrade by S&P brought Egypt's credit rating to the same level as that of Greece.
It now stands at "B-", down from "B" and four levels below the "BBB-" benchmark considered as "the lowest investment grade" by S&P.
This means that investors are likely to be more worried about the ability of Egypt to repay its debts and may demand higher interest rates as a result.
Egyptian Minister of Planning and International Cooperation Ashraf al-Arabi has said that improving the country's credit rating is his government's top priority, the state-run Ahram Online news website reported on 31 December.
Is Egypt bankrupt?
No. Egypt still has some capacity to meet its financial commitments although swift measures are needed in order to prevent an economic collapse.
Bankruptcy means that a country is unable to meet its financial obligations, such as paying back its debt on time. Minister of Finance Mumtaz al-Said told the privately-owned Al-Masry al-Yawm newspaper website on 25 December that his government is committed to meeting its financial obligations.
How is Egypt addressing the currency drop?
The central bank is countering the looming currency crisis by attempting to conserve foreign reserves. On 29 December, the bank announced a new currency regime. The measures taken include placing a limit on the amount of US dollars banks can hold.
The bank also reaffirmed its "commitment to repaying interest and instalments for external debts", according to a statement published on its website.
Egypt is also hoping to secure loans from international donors to deal with the financial crisis. "Once we receive all foreign aid packages from international donors including the IMF, Turkey and Saudi Arabia, we expect our reserve levels to shoot up […] to almost $19bn, ending the current state of anxiousness regarding our foreign reserves," Ahram Online quoted Mr Arabi as saying on 31 December 
How significant are the economic woes politically?
President Morsi assured the public that "Egypt will never go bankrupt" in a televised speech on 29 December. However, many Egyptians remain sceptical and are rushing to exchange bureaus to buy hard currency at any price.
This is likely to speed up negotiations with the IMF over a badly-needed injection of $4.8bn US dollars to shore up Egypt's reserves and boost international confidence. However, it also means that Egypt might be in a weaker position to negotiate some of the IMF's tougher conditions, such as spending cuts.
High inflation may also plunge more Egyptians into poverty and lead to another round of unrest against the government.
BBC Monitoring reports and analyses news from TV, radio, web and print media around the world. For more reports from BBC Monitoring, click here. You can follow BBC Monitoring on Twitter and Facebook.