Court in Gaza sentences militant to 15 years in jail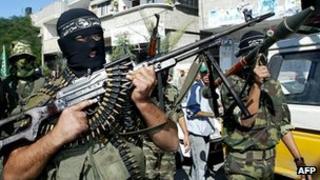 A Hamas-run court in the Gaza Strip has sentenced a leader of a rival militant group to 15 years in jail.
Zaki al-Sakani was convicted of terrorism and illegally possessing explosives and weapons, his brother Mohammed told the Maan news agency.
Sakani, a member of the al-Aqsa Martyrs' Brigades, which is associated with Fatah, was arrested in 2008.
Fatah, which governs Palestinian-controlled areas the West Bank, said the verdict was unjust and political.
It came only hours before Egypt's president began mediation between the leaders of Fatah and Hamas to help implement a reconciliation deal signed in 2011.
They have been at odds since Hamas, which won Palestinian Legislative Council elections in 2006, ousted forces loyal to Palestinian Authority President Mahmoud Abbas - the leader of Fatah - in the Gaza Strip during clashes in 2007 and set up a rival government.
Zaki al-Sakani is said to have been an explosives expert, who specialised in making mortars and other projectiles during Israel's occupation.
According to Maan, Hamas security forces raided his home in the Zaitoun district of Gaza City in July 2008. Sakani escaped, but a handgun, homemade projectiles and some explosives were found.
Later that month, five leaders of Hamas's military wing, the Izz al-Din al-Qassam Brigades, were killed by an explosion. Hamas accused Sakani of being behind it.
In August 2008, he was reportedly arrested in hospital after being shot by unidentified gunmen. He has since been remanded in custody.