Israel elections quandary for marginalised Arab citizens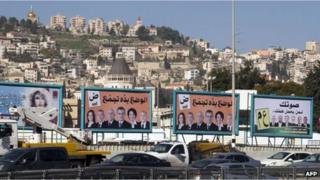 Israel's Arab population is part of the state - and yet somehow apart from it at the same time.
Their semi-detached relationship with the state gives them an unusual dilemma; while other Israelis are deciding how to vote, they are deciding whether to vote.
Some argue that participating in elections might be viewed as an endorsement of the existence of Israel - others that voting is the only way to exercise influence over how the state behaves and where it spends it money.
Things used to be very different.
In the first elections in Israeli history Arab parties ran as affiliates of the Mapai movement which was led by David Ben-Gurion, the architect of the state.
Parties like The Democratic List of Nazareth may not have been very big but they were included in governing coalitions and they reflected the impulse of the left-wing founders of the new state that the Arab minority had to be included in the political process.
Israel has changed a great deal since those days.
Its current leadership emphasises that it is a Jewish state; Benjamin Netanyahu would want the Palestinian leader Mahmoud Abbas to recognise it as such in any future negotiations. A law passed in the last parliament requires non-Jews who want to migrate here to swear an oath acknowledging its Jewish nature.
That kind of talk makes the 20 per cent or so of the population which is Arab feel uneasy, or even angry.
They have civil rights - including the right to vote and run for the Knesset of course - but many still feel marginalised or excluded.
Even if they vote they feel that power will always be shared among parties representing Jews, leaving them as part of the electoral process rather than the game of government.
Separateness
In the Arab city of Nazareth in northern Israel I met Mohammed Darweshe, a community leader who is trying to persuade his fellow Israeli-Arabs not to boycott the elections.
He told me: "If we play the angry voice and pull out of the system, which is happening, then we will marginalise and defeat ourselves... that would be allowing the government to discriminate against us... [It's better to] come and get representation and affect the system."
There are signs that Mr Darweshe may be losing that argument within his community - especially among younger people.
Around three-quarters of Arabs voted in Israel's election in 1999. That fell to just over half last time around and several Israeli Arabs told me they thought it would fall again this time around.
There are complex factors at play in all of this - but the one that comes up over and over again is alienation.
There is a sense of separateness which is not surprising in the context of the sectarian history of the Holy Land.
And while some Arabs work successfully within the Israeli economy others will point out that Arab children are poorer than the children of Jewish families and that Arab towns feel like less money is spent on them.
It is worth noting though that Arabs were represented in the last parliament (11 Members of the Knesset, or parliament, out of 120 ) and will be represented at around the same level in the next parliament.
Politically fragmented
At least one mainstream Israeli party - Meretz - is fielding an Arab candidate with a reasonable chance of being elected. Those calculations exclude members of the Druze community, who tend to be counted separately.
But it is obvious that Israeli-Arabs could wield a great deal more influence if they voted tactically and voted in larger numbers.
By voting for their own small parties they tend to ensure that in the kaleidoscope of Israeli politics they remain without real influence.
That influence would be felt very directly indeed if a very large number of Israeli Arabs were to vote for Meretz or any of the other parties that supports peace talks with the Palestinians.
When I spoke to Ibrahim Sarsour, head of the United Arab List, he seemed a little wistful about that prospect.
He has been trying to get Arab voters organised into a single bloc without much success in spite of his party's name.
"Being in a single list we might be able to persuade the 10 per cent who boycotted last time to get out and vote," he told me. "We didn't succeed with that strategy but still on the ground we are trying to move together."
The problem is that it is hard for Israel's Arab population to act with any kind of unity of purpose because history has robbed them of a coherent identity.
The rest of the Arab world is strong in its support for Palestinians - those Arabs who fled or were expelled beyond the boundaries of Israel as it was formed in 1948 or who now live in the land it occupied in the war of 1967.
But its attitude towards those Arabs who happened to remain within Israeli borders in 1948 is much more equivocal - even though only a series of accidents of history separates them from their fellow-countrymen on the other side of the national boundaries.
Identity issue
One Israeli Arab said to me that his people could be forgiven for feeling marginalised not just within Israel but beyond it too.
"We were", he told me, "the only Arab people who were not mentioned in the founding articles of the Arab League in the 1940s. And then in the 1990s we weren't mentioned in the Oslo Accords [peace agreement between Israel and the Palestinians]."
He told me he thought many people in the wider world simply did not realise that Israel had an Arab minority, let alone such a large one.
Many even resent the title "Israeli Arab", used here in the interests of clarity. Some prefer to be called "Palestinian citizens of Israel".
The big story of the Israeli elections will of course be the fate of the Prime Minister Benjamin Netanyahu - he is likely to be returned to office although he may be forced to tweak his governing coalition according to the final results of the voting.
But on polling day it will also be worth checking how the Arab vote has held up.
If it starts rising, Arabs will exercise more influence here and if it continues to fall then that sense of deepening alienation will eventually create problems for the Israeli state.
Either way, it is an issue to watch. Israel's Arab population is part of the state - and yet somehow apart from it at the same time.