Israel election: Benjamin Netanyahu holds strong hand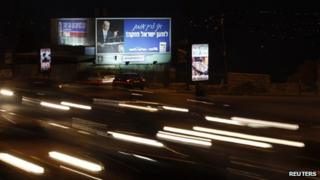 After three months of campaigning in which bombs fell on Gaza, rockets fell on Israel and snow fell on Jerusalem, Israelis will finally cast their votes on Tuesday.
The conflict with the Palestinian Islamist movement Hamas seemed to shift opinion rather less than outsiders might have expected, and the winter storms generated more excited comment than any campaign event that I can remember.
The feeling here is of a long election process meandering to a conclusion rather than thundering towards a cliff-hanging climax.
The poll ratings of Prime Minister Benjamin Netanyahu were another thing that fell but the arithmetic of Israel's political system means he is overwhelmingly likely to be invited to build another coalition government once all the votes are counted.
If US President Barack Obama was tempted to turn to peace-making in the Middle East as a possible legacy issue he will have noted that his second term will probably coincide exactly with Mr Netanyahu's own third stint as prime minister.
We should get another chance to watch them trying to rise above their obvious lack of personal chemistry in March.
Tactician not strategist
The outcome of Israel's election was more or less guaranteed from the moment Mr Netanyahu announced that his Likud movement would be running a joint list of candidates with the Yisrael Beitenu party of his former Foreign Minister, Avigdor Lieberman.
Likud-Beitenu in truth has turned out to be rather less than the sum of its own parts - the two parties won 42 seats between them in the last election in 2009 and opinion polls suggest they will end up with less than that this time around.
Still, if the combined list has the largest number of seats then Mr Netanyahu can consider it mission accomplished - he will get the call from President Shimon Peres inviting him to form a government.
In a sense, the shotgun wedding of Likud with a party generally seen as a right-wing grouping representing the interests of recent migrants from the former Soviet Union encapsulates a point often made by Mr Netanyahu's critics - that he is a tactician rather than a strategist.
This deal gives him another term as prime minister, but the tie-up with Yisrael Beitenu may create political problems further down the road.
If it does, presumably Mr Netanyahu calculates he will deal with them as they arise.
'King Bibi'
Israel's prime minister is an intriguing political character.
Headline writers sometimes refer to him as "King Bibi", but he appears to be emerging as a kind of colossus in contemporary Israeli politics almost by default.
Likud was not the largest party in the Knesset after either of the last two elections, and Mr Netanyahu ended up forming the current government because he was prepared to recruit partners from both the Left (Labour) and the Right (the religious party, Shas).
When Israel experimented with having a directly-elected prime minister in the 1990s his record was modest. He won one (by a whisker) and lost one. That system was quickly abandoned.
Mr Netanyahu is lucky that the current landscape of Israeli electoral politics suits him very well - it offers him a running partner in Yisrael Beitenu and ideologically congenial religious coalition candidates like Shas and United Torah Judaism.
So the likeliest outcome of this election is that Mr Netanyahu will end up forming a coalition. The biggest danger for him is that he will end up being defined by it.
Settlement promise
The most dynamic force in Campaign 2013 has been The Jewish Home - a party headed by Mr Netanyahu's former chief-of-staff, Naftali Bennett.
Mr Bennett combines talk of Jewish spiritual renewal with an implacable hostility towards the creation of a Palestinian state on the West Bank of the River Jordan and in Gaza - the so-called two-state solution which has been the cornerstone of international diplomacy in this region for decades.
Mr Netanyahu must have watched the rise of his former protege through gritted teeth.
His own attitude to the two-state solution is complex.
When he became prime minister in 2009 he made a speech - apparently designed to please the US government - indicating that he was in favour of such a deal in certain circumstances.
His actions on the ground - including a promise not to remove any Jewish settlers from the West Bank - appear to be designed to reassure his supporters that those circumstances are unlikely to arise.
It looks as though the clarity of Mr Bennett's opposition to the creation of a Palestinian state might hurt Mr Netanyahu and attract enough support to win the newcomer a seat in the cabinet.
It is very hard to imagine a government led by Mr Netanyahu and with Mr Bennett somewhere in its ranks negotiating seriously about a two-state solution - something that will anger Palestinians and frustrate American and European leaders.
Complex kaleidoscope
Those centre and left-of-centre parties which want to start talking about a two-state deal seem destined to end up in opposition again.
All the factors that work in Mr Netanyahu's favour naturally enough work against them.
It is possible one or more of them might accept seats in government, but it is unlikely that they will have much influence there.
Mr Netanyahu might be tempted to include the centre-left in government on the principle that ideologically fragmented coalitions tend to leave more power in the hands of the prime minister, who will be balancing one faction against another.
Everything will depend on the precise number of seats each party ends up attracting.
So the main headline of the night feels like it has been written in advance, but Israeli parliamentary politics is a complex kaleidoscope - there are more than 30 parties competing in this election - and it is still possible that the results might present Mr Netanyahu with uncomfortable surprises or difficult decisions.
Coalition-building here is never easy - it could take a month or more after an election for a new administration to be formed.
But the horse-trading to come after election day promises to be at least as significant - and perhaps more interesting - than the campaigning which went before.