Israel election: Netanyahu setback as Lapid surges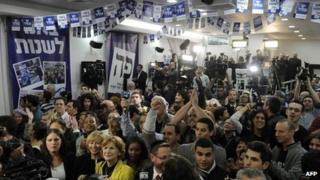 Exit polls from Israel's election suggest Prime Minister Benjamin Netanyahu's right-wing alliance has lost ground to centre-left parties.
They predicted a narrow majority for Mr Netanyahu's Likud-Beitenu and nationalist allies. The prime minister pledged to form a broad coalition.
The high turnout is thought to have benefited Labour and centrists,
Yesh Atid (There is a Future), a centrist party, is believed to have come second, followed by Labour.
Mr Netanyahu is expected to seek an alliance with a new nationalist party, Habayit Hayehudi (Jewish Home).
After the vote, the prime minister promised to reach out to other parties to form a wide coalition. "Tomorrow we start anew," he told cheering supporters.
And he said preventing Iran from obtaining nuclear weapons remained the government's first challenge.
Thirty-two parties were competing under a system of proportional representation for the 120-member Knesset. Parties must win at least 2% of the total vote to secure seats.
In the outgoing parliament, Mr Netanyahu's Likud party, together with the ultra-nationalist Yisrael Beitenu, have 42 seats.
According to the exit polls, the Likud-Beitenu alliance would now get 31, and Habayit Hayehudi 12.
Yesh Atid, led by journalist-turned-politician Yair Lapid, is credited with 18 or 19 seats. Analysts say this is a stunning result for a newcomer.
Mr Lapid has said he will not join Mr Netanyahu's team unless the prime minister promises to push for peace with Palestinians.
"We have red lines. We won't cross those red lines, even if it will force us to sit in the opposition," Yaakov Peri, one of Yesh Atid's leaders, told Israeli TV.
Exit polls suggest Labour will get 17 seats - up from just seven in the outgoing parliament. Labour leader Shelly Yachimovich said: "There is a high chance of a shake-up and an end to the Netanyahu government."
Economic focus
However, if the exit polls are confirmed by official results, Mr Netanyahu would be on course to secure a third term in office - but with a majority that is both substantially reduced and more hardline.
Likud-Beitenu's dominance on the right has been challenged by Habayit Hayehudi, led by millionaire businessman Naftali Bennett - Mr Netanyahu's former chief-of-staff.
He has advocated annexing large parts of the occupied West Bank and rejected the idea of a two-state solution to the Israel-Palestinian conflict.
Full election results are due on Wednesday. The process of forming a government may take several weeks.
Mr Netahyanu, 63, has been in office since the 2009 election. He also served one term as prime minister between 1996 and 1999.
In recent years he has accelerated construction in the West Bank and east Jerusalem, drawing anger from Palestinian leaders and criticism from Western partners.
However unlike in previous elections, the campaign focused largely on social and economic issues, rather than the prospects for a permanent peace agreement with the Palestinians.
There have been unprecedented protests against the rising cost of living and a recent report said nearly one in four Israelis lived in poverty.