Palestinian shot dead in West Bank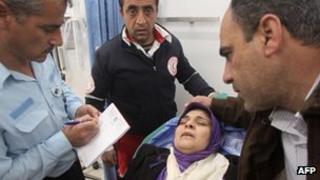 A Palestinian woman has been shot dead by Israeli troops in the West Bank, Palestinian medical sources say.
Lubna Hanash was killed near al-Arroub College, about five miles (8km) north of Hebron, witnesses said.
Troops "returned fire" after Palestinians threw petrol bombs at them, an Israeli army spokesperson said.
Earlier, a Palestinian teenager died from wounds sustained in clashes with troops in the West Bank on Friday.
An Israeli hospital spokeswoman told AFP news agency that Saleh Amarin had been hit by a bullet during violence in a refugee camp in Bethlehem.
In Wednesday's incident, witnesses said 21-year-old Ms Hanash was shot by men in Israeli army uniforms who were travelling in a civilian car with an Israeli number plate.
At least one other person was wounded, Palestinian medics said.
The Israeli army said initial reports suggested several suspects had been injured, and the circumstances of the incident were now under review.
Firebombs were later found at scene, the army said.
The incidents follow a number of recent violent confrontations between Israeli troops and Palestinians in the West Bank.
itial reports suggest several suspects injured. Circumstances of incident are currently under review. Firebombs were later found at scene.