Iran 'arrests 11 journalists with foreign contacts'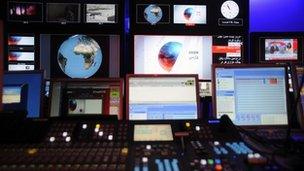 Iran has arrested 11 journalists accused of co-operating with foreign Persian-language media organisations, according to local media reports.
Seven men and four women working for six different media outlets were reportedly detained late on Sunday.
Tehran considers hostile organisations such as the BBC's Persian service and the US-based Voice of America (VOA).
Last week, the BBC accused the Iranian authorities of intimidating BBC Persian staff members based in London.
Iran-based family members of BBC journalists have been called in for questioning by the intelligence services, and false websites and Facebook accounts have been created to smear presenters and other personnel with various allegations, including sexual misconduct.
The head of BBC Persian, Sadeq Saba, said it was not the first time the Iranian authorities had resorted to such tactics, but that the number of incidents and level of harassment had increased in the last few weeks.
Iran accused the BBC of inciting unrest after the disputed re-election of President Mahmoud Ahmadinejad in 2009. BBC Persian broadcast online videos and interviewed protesters, who described deaths, injuries and arbitrary arrests carried out by security forces.
The 11 journalists were picked up on a "warrant issued by the judiciary", on charges of "co-operation with Persian-language anti-revolutionary media", local media reported.
The Fars news agency identified them as Sasan Aghaei, Pouria Alami, Emily Amraei, Javad Daliri, Milad Fadaei, Narges Jodaki, Soleiman Mohammadi, Akbar Montajabi, Pejman Mousavi, Motahareh Shafiey and Nasrin Takhayori.
The editors of the journalists told the Associated Press that they had been arrested because of their "foreign contacts", but the extent of their links with foreign media was not immediately clear.
Culture Minister Seyyed Mohammad Hoseyni was quoted by the Isna news agency as saying the journalists had "not been accused of journalism-related charges".
"We are investigating the issue and after getting more information we will provide the media with it. It seems that they have been arrested over security accusations," he added.
The arrests looks to observers like a tightening of restrictions by the Iranian leadership on the media ahead of June's presidential election, the BBC's Nick Childs reports.
They also come against a background of reports of discontent in Iran over an economy struggling under Western-led sanctions imposed over Iran's disputed nuclear programme, our correspondent adds.