Suez: the city fighting a curfew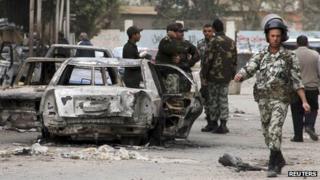 Fifty people have died in protests in the Egyptian city of Suez and other cities in recent days. Protesters are defying a curfew imposed by President Mohammed Morsi.
On any visit to Suez it is hard not to be struck by that magical, serene sight; ships gliding silently by through the desert along the canal that bears the city's name.
But on this visit, it also proved hard not to be taken aback by the violence that has recently visited the city, or to be moved, seeing a man trembling and sobbing as he talked of the loss of his 19-year-old son.
Suleiman Hejab went to the gym with son Ali on Friday morning, but by that evening Ali lay dead in a Suez hospital.
"I keep thinking of him lying there, he was my best friend," cries Mr Hejab.
"I pulled the sheet from his face praying he might wake up. Then I hugged him and hugged him until my brothers pulled me away." Mr Hejab broke down.
He said that Ali had little interest in anything but sport and work but had gone with friends to see what was happening at the protests in opposition to President Morsi. He was shot in the arm and stomach.
"The president has my son's blood on his hands," says Mr Hejab. "But those thinking of going to these demonstrations should stay away," he urged. "Think about how devastated your parents will be if you die. And what for?"
Nine people died in the demonstration on Friday. More than 50 have been killed in the cities of the Suez Canal in a matter of days.
As the region quickly became the focus of Egyptian unrest, President Morsi declared a state of emergency in Port Said, Ismailia and Suez for 30 days. From 21:00 until 06:00 nobody is to leave their homes. If anything, the move appeared to make opposition groups here all the more determined to protest.
In a building in the centre of Suez, we found two opposition groups drawing up plans for the night's demonstrations.
They were planning to start a couple of hours before the curfew and stay on the streets well into the night. "All the promises President Morsi made were lies," says Islam Mosadek, 20, one of the main organisers.
"In fact life has got worse for everybody except Morsi and his group," he told me.
I asked Mr Mosadek if he felt there might be better options, ones that did not mean more lives being lost.
"We are not afraid of death any more," he said. "We embrace it. I was involved in the revolution and have seen so much blood with my own eyes. But if we can't change the situation, and we can't live with dignity, death is better."
As he predicted, a few hours later, protesters did take to the streets.
It started with several small demonstrations that came together in the centre of Suez.
"Why should there be a curfew in our city?" one man told us. "It's not something we accept. We got rid of Mubarak because he did stupid things like this in our country."
"The people of Suez are tough, we will never accept a curfew," another man said. "President Morsi should understand that citizens of the canal have experienced wars and are full of honour and freedom. We will never be constrained."
The demonstrators kept on reminding me that the first violent protests against Hosni Mubarak in 2011, and the first deaths of the revolution, happened in Suez.
There is a great deal of poverty here, combined with a historic feeling that Egyptians outside Suez do not appreciate the sacrifices made by people in this region in the wars against Israel more than 40 years ago.
After the revolution, many here put their faith in President Morsi and the Muslim Brotherhood to bring a new era of prosperity and justice. Many still do. But others have already lost patience, feeling they should have seen results by now. The common perception is that President Morsi is only helping his own "mafia".
And then there are those people in Suez, like the rest of the country, who fought for democracy, but were not happy with the man their fellow Egyptians chose.
We were told by some who defied the curfew that the president's Islamist agenda was forcing them on to the streets to finish the revolution that was started in 2011.
Dancing with troops
As it happened, the tension and the fear of violence during the first curfew soon dissipated.
It became clear the newly deployed soldiers in Suez would employ very different tactics to the police a few days ago. We saw troops standing to the side, smoking, smiling, and looking on at demonstrators shouting anti-Morsi slogans.
And later, when the crowds in the centre of the city had turned into a big, defiant celebration, we saw protesters in their hundreds, singing and setting off fireworks right in front of the army. We saw some even clamber on to an armoured personnel carrier and dance with the troops and another soldier laughing and wrapping himself in the blue flag of Suez.
A second night's curfew went very much the same way.
But because there is no solution in sight to Egypt's acute political problems, everyone here is aware that violence could revisit Suez at any time.