Tahrir Square activists confront Egypt PM Hisham Qandil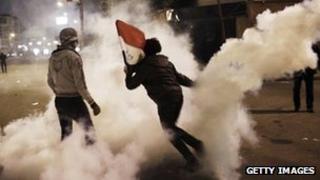 Egyptian Prime Minister Hisham Qandil says he was confronted by "youths and troublemakers" on Cairo's Tahrir Square amid continuing opposition unrest.
Mr Qandil said Saturday's incident "sheds light on the nature of people occupying the square".
He did not expand on the incident, but Egypt's Dream Live TV said the prime minister's car was pelted with stones.
On Friday police and protesters clashed near the presidential palace, after a week of violence in which dozens died.
In a statement Mr Qandil said he had been "accosted" by protesters on Tahrir Square on Saturday, adding that he "preferred to avoid a confrontation between them and security personnel".
The incident comes a day after riot police used tear gas and water cannon against rock-throwing crowds outside the president palace.
One person was reportedly killed and more than 50 injured.
The protesters accuse Islamist President Mohammed Morsi of betraying the aims of the 2011 uprising - a claim he denies.
In a statement on his Facebook page, the president warned that security forces would "act with utmost decisiveness" to protect state institutions and those groups behind the violence would be held "politically accountable".
The current unrest began on 24 January in Cairo on the eve of the second anniversary of the revolution and has spread to several cities.
On Tuesday, Egyptian army chief Gen Abdul Fattah al-Sisi warned that the political crisis could lead to the collapse of the state.