Kuwait former MPs imprisoned for insulting emir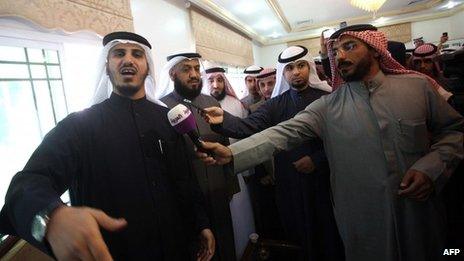 A court in Kuwait has sentenced three former opposition MPs to three years in prison for insulting the emir.
The charges against Falah al-Sawwagh, Bader al-Dahoum and Khaled al-Tahous were related to comments they made warning against changes to a law.
The opposition denounced their convictions as "political" and urged supporters to gather outside the home of Mr Sawwagh on Tuesday evening.
A lawyer for the three men, Khaled al-Juaisri, said they planned to appeal.
On Sunday, human rights groups said a Twitter user had been sentenced to five years in prison for a post allegedly offensive to the emir.
Although Kuwait allows more freedom of speech than some other Gulf states, the emir is considered "immune and inviolable" in the constitution.
'Politicising the judiciary'
The court case against the former MPs focused on comments about Emir Sheikh Sabah al-Ahmed al-Sabah which they made in October.
The three men are reported to have spoken at a diwaniya, a traditional social gathering, where they warned that any changes made to the electoral system might lead to widespread protests.
The opposition said they unfairly favoured pro-government candidates and boycotted last month's election after the emir approved them.
After the defendants were found guilty on Tuesday, another former MP facing similar charges, Mussallam al-Barrak, told opposition supporters gathered at the house of Mr Tahous: "This is a political ruling.
"They have breached the constitution and played with the election system."
"Now they want to terrorise us," he added. "We will not surrender and will not be scared."
Former opposition MP Khaled al-Sultan warned that "politicising the judiciary" might trigger a violent response for which the government would be responsible.
However, the ministry of information insisted Kuwait had a "transparent and independent judicial system", in which all citizens got a fair trial.