Iran shows 'hacked US spy drone' video footage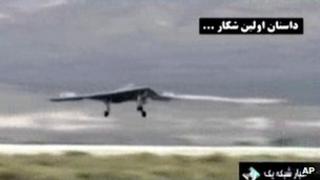 Iran has released what it says is decoded video footage extracted from a US surveillance drone captured in 2011.
The material broadcast on Iranian state television purports to show a US base and the Afghan city of Kandahar. It is not clear if the footage is genuine.
Last year Iran said it was building a copy of the drone - an RQ-170 Sentinel - after breaking its encryption codes.
Iran has repeatedly accused the US of spying activity amid continuing tension over its nuclear programme.
"By decoding data extracted from the drone, we found out that the aircraft had conducted many flights in Iran's neighbouring countries," Gen Amir Ali Hajizadeh of Iran's Revolutionary Guard said in the broadcast.
BBC security correspondent Gordon Corera says that if the Iranians have really managed to break into the systems of the pilotless aircraft, this would suggest a level of sophistication that may worry the US.
American officials have previously cast doubt on Iran's ability to extract useful intelligence from the captured spy plane, and have said that reverse-engineering a copy would be beyond Iran's technological capability.
The RQ-170 Sentinel is an advanced high-altitude surveillance drone used by both the US Air Force and the CIA. It does not carry weapons.
Its capture in 2011 was hailed by Iran as a demonstration of its military and technological prowess.
The US confirmed that a drone had gone missing on the border between Iran and Afghanistan and asked for its return, but Iran refused.
Iran said it had brought the drone down using electronic warfare after it entered Iranian airspace; Washington said the aircraft malfunctioned.
Iran and the US are engaged in a tense confrontation over Iran's nuclear programme, which Washington and its allies say is aimed at developing nuclear weapons.
Iran denies this, and accuses the US of hostile intent in cooperation with Israel.
Last December Iran said it had captured another, less sophisticated drone, but the US denied any such aircraft was missing.