Deaths mar Yemen's 2011 revolt anniversary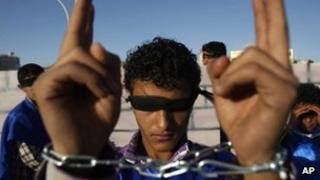 Two people have been killed in clashes in Yemen during rallies marking the 2011 uprising that led to the ouster of President Ali Abdullah Saleh.
Officials say the fighting was between separatists and Islamists in the southern city of Aden.
Meanwhile, thousands of people marched peacefully in the capital Sanaa.
In November 2011, Mr Saleh handed over power to his deputy, who has since pledged to launch a national dialogue to draft a new constitution.
Abdrabbuh Mansour Hadi won an uncontested presidential election the following year, marking the final stage in the exit of Mr Saleh - the country's longest-serving leader in recent times.
Mr Hadi has since set 18 March as the date for the much-anticipated dialogue to also prepare for new elections in 2014.
Despite this, Yemen remains plagued by political unrest, including clashes between security forces and Islamist militants.
In the south, separatists have for years complained of political and economic marginalisation by the central government in Sanaa.