UN Syria team resumes field visits near Damascus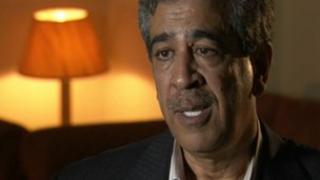 A member of the UN special envoy's team has carried out the first field visit to Syria for several months.
Lakhdar Brahimi's deputy Mokhtar Lamani held talks with the head of the rebel Revolutionary Military Council to the north of Damascus, a UN official said.
He also met civilian and Christian leaders in the town of Yabroud, with all expressing support for a recent opposition peace initiative.
Damascus has seen heavy recent fighting but rebels have made no breakthrough.
Moaz al-Khatib, head of the National Coalition for Syrian Revolutionary and Opposition Forces, offered earlier this month to hold direct talks with Vice-President Farouq al-Sharaa.
However, he gave two conditions - the release of the 160,000 people he said were being held in prisons and intelligence facilities, and the resumption of the issuing of new passports by Syrian embassies.
On Monday, the government responded to the offer for the first time.
The Minister for National Reconciliation, Ali Haidar, told the Guardian newspaper that he was "willing to meet Mr Khatib in any foreign city where I can go in order to discuss preparations for a national dialogue".
Opposition and rebel groups have long insisted that they will not begin dialogue with the government until President Bashar al-Assad agrees to stand down.
The messages of support for Mr Khatib's initiative, offered by leaders in Qalamoun, near Damascus, and in Yabroud, may be seen as a positive sign by Mr Lamani.
The UN spokesperson said the Canadian diplomat's visit was the first of a series that he planned to carry out in the coming weeks.
Since taking up his post in September, Mr Lamani has played an important role in negotiating local ceasefires, particularly at the Yarmouk Palestinian refugee camp, reports the BBC's Lina Sinjab in Damascus.
The UN field visit is seen as a step forward in the promotion of dialogue between both sides and shows that Mr Brahimi's team can play a role in mediation, our correspondent adds.
Later on Wednesday, the new US Secretary of State, John Kerry, reiterated the Obama administration's position that any political solution to the conflict in Syria had to include Mr Assad giving up power.
Mr Kerry said he was looking into ways to convince the president to change his "calculation" and accept "the inevitability" of his departure. There were "additional things" that could be done to get there, he added.