Funeral for Iranian senior Revolutionary Guard leader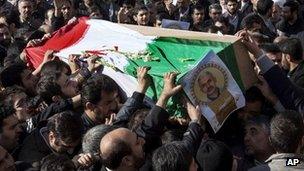 Prominent Iranian politicians and clerics have led mourners at a funeral for a senior commander of the country's Revolutionary Guards.
Gen Hassan Shateri was killed on Wednesday while travelling from Syria to Lebanon, the semi-official news agency Fars.
Iranian Foreign Minister Ali Akbar Salehi condemned the killing as a "terrorist act".
Exact details of how and where he died remain unclear.
It is not known whether Gen Shateri was killed on the Lebanese or Syrian side of the border, although an Iranian official in Damascus told the Associated Press news agency that he had been killed within Syria.
Revolutionary Guards spokesman Gen Ramazan Sharif was quoted as saying that "mercenaries and supporters" of Israel were responsible for the killing, though it was not clear to whom he was referring.
The Israeli military has made no comment on the incident.
According to Iran's Irna news agency, Gen Shateri was a military engineer during the 1980-88 war with Iraq and later worked in Afghanistan.
Most recently he was reported to have headed the Iranian Committee for the Reconstruction of Lebanon.
According to a report in Lebanon's Al-Safir newspaper, he was in Syria to study reconstruction plans for the northern city of Aleppo.
Iran is a strong ally of Syrian regime.