Russia and Arab League propose direct Syria talks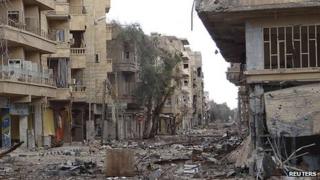 Russia and the Arab League say they want to broker direct talks between the Syrian government and opposition in a bid to end the country's civil war.
Russian Foreign Minister Sergei Lavrov said violence was "a road to nowhere".
The move comes as the opposition Syrian National Coalition is due to begin a two-day meeting in Egypt to discuss a framework for a possible solution.
Some 70,000 people have died since the uprising against President Bashar al-Assad began in March 2011, the UN says.
The BBC's Jim Muir in Cairo says although the Syrian government and the opposition are talking about dialogue, that still seems a distant prospect.
Mr Lavrov said the Kremlin and the Arab League wanted to establish direct contact between the Syrian government and the opposition.
Speaking in Moscow, where he hosted league officials and several Arab foreign ministers, the Russian foreign minister said that sitting down at a negotiating table was the only way to end the conflict without irreparable damage to Syria.
"Neither side can allow itself to rely on a military solution to the conflict, because it is a road to nowhere, a road to mutual destruction of the people," he said.
Mr Lavrov and Arab League General Secretary Nabil Elaraby said their priority was to create a transitional government to navigate a way out of the violence.
No conditions for the negotiations have been set, they said.
However, the proposal received a cool reception from the Syrian National Coalition (SNC).
"We cannot agree to that," said Abdelbaset Sieda, a senior member of the opposition group.
"Assad and his group must go first. After that we can discuss with others in the regime who didn't share in the killing of our people."
Russia is a key ally of Syria and recently confirmed that it was still supplying arms to the Damascus government.
Moscow, together with China, has opposed moves at the UN to place sanctions on President Assad's leadership.
The SNC's policy that President Assad and his leadership are excluded from any political process is likely to be endorsed, perhaps even strengthened, by its meeting beginning in Cairo on Thursday, our correspondent says.
Diplomats believe both sides still think they can win the war, and don't really want to talk to one another about a compromise solution, he adds.
The government has proposed a "national dialogue" on a political solution but insists that it must preside over it.
Meanwhile, violence is continuing across Syria.
Two mortars crashed into a sports complex in central Damascus on Wednesday, killing a footballer and wounding three more, the state news agency said.
Sana said two shells landed near Tishreen stadium in Baramkeh district, where Al-Wathba and Al-Nawair teams were preparing to train.
It came a day after state media said two mortars landed near Tishreen presidential palace in another area of Damascus without reports of injuries.
Opposition activists said that a government air raid on the Damascus suburb of Hamouriyeh on Wednesday killed at least 20 people and wounded dozens more.
They also said government planes bombed rebel positions around Damascus and near the northern city of Aleppo on Wednesday.
The reports cannot be independently verified.