Iran charges ex-prosecutor Saeed Mortazavi over 'murders'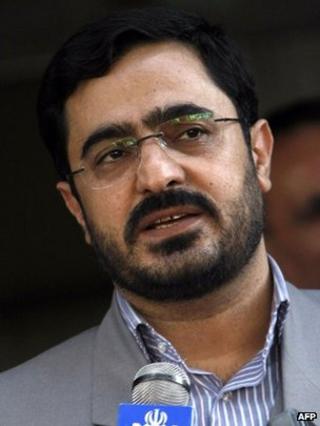 Iranian prosecutors have accused an ally of President Mahmoud Ahmadinejad of being an accessory to the murder of anti-government protesters, a lawyer in the case has said.
Saeed Mortazavi, a former Tehran prosecutor, was also charged with illegally arresting protesters in 2009.
He appeared in closed court on Tuesday.
The opposition says more than 80 of its supporters were killed following the presidential elections - a figure disputed by the government.
Mr Mortazavi was arrested earlier this month and held for two days in Tehran's Evin prison, before he was released, Iranian media said.
He was detained shortly after a parliamentary session in which President Ahmadinejad accused Iran's parliamentary speaker, Ali Larijani, and his family of nepotism and corruption - allegations they strongly deny.
Mr Ahmadinejad denounced Mr Mortazavi's arrest as "a very ugly action".
The apparent power struggle between Mr Ahmadinejad and Mr Larijani comes ahead of presidential elections due in June.
Mr Larijani is widely expected to be a candidate to succeed President Ahmadinejad, who cannot stand for another term.
Mr Mortazavi, 45, was chief prosecutor in the capital, Tehran, in 2009 when there were big protests against Mr Ahmadinejad's re-election.
In 2010 a parliamentary investigation blamed him for the torture and killing of at least three anti-government protesters.
The US accused him of "sustained and severe violations of human rights" and imposed sanctions on him.
He has also played a central role in shutting down opposition newspapers and has previously faced allegations of corruption.
Analysts say his arrest could be the result of disputes between President Ahmadinejad on one hand and parliament and the judiciary on the other.