Syria unrest has wrecked health system, says MSF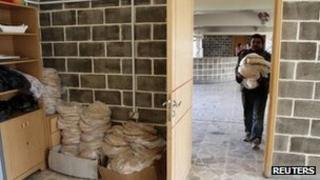 Two years of intense fighting in Syria have wrecked its healthcare system, according to medical charity Medecins Sans Frontieres (MSF).
MSF said in a report that hospitals, doctors and patients had come under direct attack, and many trained medical staff had fled abroad.
One-third of public hospitals are no longer functioning and healthcare has been forced underground, MSF said.
The charity has more than 200 staff working in rebel-held areas of Syria.
It said repeated requests to the government for wider access had not been granted.
Despite its limited access, the charity said it had carried out more than 20,000 consultations and 1,560 surgical procedures since the start of the conflict in March 2011.
It has also opened three hospitals in opposition-held northern regions.
Doctors labelled 'enemies'
But MSF said the conflict had "made a mockery of the concept of healthcare".
"Medical aid is being targeted, hospitals destroyed and medical personnel captured," said MSF's Dr Marie-Pierre Allie
The exodus of trained medical staff had left inexperienced workers trying to provide care, the charity said.
"Dentists are performing minor surgeries, pharmacists are treating patients and young people are volunteering to work as nurses," the report said.
Doctors had been labelled "enemies of the state" for treating the injured and both sides were now using hospitals as a war strategy, MSF said.
While government air raids targeted medical facilities, the rebels had begun to label their facilities "Free Syrian Army hospitals", increasing the risk of attack.
Increasingly, medical care has been forced underground, with makeshift hospitals set up in caves, homes and farms.
But MSF says these facilities are still being targeted in air raids.
On Wednesday the UN said one million Syrians have now fled abroad, and some 2.5 million have been forced from their homes inside the country.
In addition, the UN estimates about 70,000 people have died in the fighting.