Seventeen sentenced for attacks on Bahrain police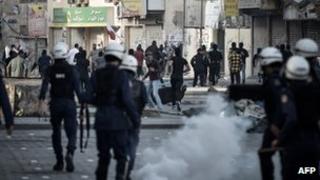 Seventeen Bahrainis have each been sentenced to 15 years in jail for the attempted murder of four police officers.
The men were found guilty of planting an incendiary device at a roadblock last year.
The officers were injured when the device exploded as they approached the roadblock in their vehicle.
Bahrain, a Gulf island kingdom, has seen more than two years of anti-government unrest.
It has a Shia Muslim majority but is governed by a Sunni royal family. Shia Bahrainis have long complained of discrimination, poor housing and high unemployment.
Protests erupted after Pearl Roundabout, an iconic landmark in the capital Manama, was occupied by mainly Shia protesters in February 2011.
The roundabout was cleared by force and in the unrest that followed dozens died and thousands were arrested.
The sentences given the 17 men have angered human rights lawyers in the Gulf island kingdom.
They point to the acquittal of police in the cases of deaths in detention of pro-democracy activists, and the relatively light sentences given recently to two officers who were convicted of manslaughter. In that case the officers received 10 year terms for the beating to death of Ali Saqer, a Shia activist.
Mr Saqer died in custody in April 2011. His body bore marks of severe torture when it was returned to his family.
The Ministry of Interior, responsible for Bahrain's police force, established a Special Investigations Unit to examine allegations of police brutality.
A ministry spokesperson told the BBC that 94 deaths were being investigated, including the deaths of seven police officers.
The ministry said the deaths occurred over a two year period, from 17 February 2011 to the end of February this year.
According to the ministry: "Twenty-one police personnel ranked between Corporal and Lieutenant Colonel were formally indicted and their cases were sent to the designated court of law for trial."
The 21 are currently appealing their convictions, the ministry said.