Palestinian, Israeli press disagree over Obama speech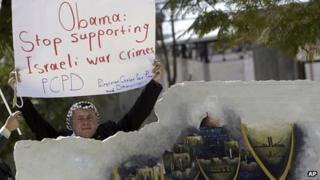 US President Barack Obama's speech to a group of Israeli students in Jerusalem may have been welcomed by Palestinian leader Mahmoud Abbas, but it failed to please Palestinian commentators, with one complaining that the president had said nothing new.
Israeli writers, on the other hand, were far more enthusiastic; words such as "seminal", "special" and "unique" appear in their commentaries on the speech.
One holdout, however, was the pro-Netanyahu newspaper, Yisrael Hayom, which insisted that compromise was not possible with the Palestinians.
Hani Awkal in privately-owned, pro-Fatah Palestinian newspaper Al-Ayyam
What did Obama do? He repeated his previous positions and announced them in Israel and Palestine. He therefore does not oppose a Palestinian state but he did not say how such a state can be established. Furthermore, he did not demand from Israel that it stops settlement activity in order to have successful negotiations.
Yusuf Rizqah in Hamas-run, Gaza-based newspaper Filastin
The danger in Obama's words is that they did not stem from a political position that is subject to change according to state interests. They stemmed more from a stable biblical culture that is entrenched in the culture of the US president and the United States. This historic ideology undermines Islamic history.
Nahum Barnea in Israeli centrist, mass circulation Yediot Aharonot
American presidents over the years have showered Israel with words of affection… Nevertheless, Obama's speech was special and unique. There was in it a well-made mixture of a wide historic layer, a moral worldview, experiences from the field, information, sentiment, warmth and specific criticism.
Shalom Yerushalmi in Israeli centrist daily Ma'ariv
This was a seminal, even historic speech... After long years of fruitless preoccupation with Israeli-Palestinian peace, the president erupted with his pent-up frustration straight to the Israeli public... Obama sought souls that would understand him and take in the simple message: You are strong enough to make peace with the Palestinians, grant them an independent state, and in this way you will not lose the Jewish, democratic identity of your state.
Hemi Shalev in Israeli left-of-centre, independent broadsheet Ha'aretz
The high point of Obama's public visit was reached in his challenging words about occupation, settlements and peace with the Palestinians, without which, he suggested, Israel's future, security, and well-being are at risk... He asked - blasphemy indeed - that Israelis try to look at the world through Palestinian eyes.
Dror Eydar in Israeli free, pro-Netanyahu Yisrael Hayom
Obama urged us to 'make history', while history in the last 100 years has taught us the opposite. It is impossible to go for peace if the other side isn't interested. It is impossible to talk about compromise while the other side is not ready for it and this is despite your meeting, Mr President, with a group of young Palestinians who are 'similar to us in their aspirations'.
BBC Monitoring reports and analyses news from TV, radio, web and print media around the world. For more reports from BBC Monitoring, click here. You can follow BBC Monitoring on Twitter and Facebook.