Will Obama visit prompt new round of peace talks?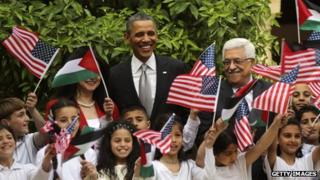 Even in the toughest of neighbourhoods the strongest of words can make a difference.
Masterful words of an American president, delivered with empathy and eloquence, carried force to charm a sceptical Israeli public.
But do they have enough power to push Israelis back to the negotiating table with the Palestinians?
"We need to take a very long breath now," sighed 27-year-old Avinoam Rozenbaum the day after he sat with some 600 other Israeli students to listen to Barack Obama's main speech during his three-day visit to Israel and the Palestinian territories.
"I'm still digesting it," he told me when he came in to our studio in Jerusalem, still visibly affected by the privilege of sitting in a front row of history.
President Obama's carefully crafted "story of Israel" wove an arresting narrative of freedom - from the sacred Jewish holiday of Passover, through the establishment of a Jewish state, to the right of Palestinians to also be "a free people in their own land."
Avinoam heard first-hand the president's call to "the young people of Israel… to write the next chapter in the story of this great nation".
In their shoes
Our conversation brought in a 21-year-old Palestinian student, Karma Abu Ayyash, who watched the speech on television in the West Bank city of Ramallah.
"It gave us hope," she said, speaking from our BBC studio there.
President Obama's message to both sides was that only direct talks would achieve what must be the main goal - "two states for two peoples."
I asked Avinoam and Karma what they would say if they sat across from each other at that negotiating table.
"You must try to see what life is like for us living under occupation," emphasised Karma, echoing the president's call to Israelis to "put yourself in their shoes."
"We need to focus on the future," Avinoam replied just as firmly. "There is no guilty or innocent side."
He took issue with the American president's description of peace as "just".
A young Palestinian studying business and an Israeli doing a Master's degree in diplomacy voiced some of the same sentiments of an older generation who've lived through the decades of tortuous talks marked by violence and venom.
Fig leaf?
The woman who will sit at the table if talks re-start also spoke of new hope.
"He put peace-making back on the agenda," remarked Israel's new Chief Negotiator Tzipi Livni, who praised a speech she described as "brilliant."
The former foreign minister, one of the few Israelis to highlight deadlocked peace talks in recent elections, has just accepted the job of justice Minister in her rival Benjamin Netanyahu's coalition government.
She dismissed suggestions she was the "fig leaf" in a new team dominated by settler leaders and right-wing opponents of peace.
"I wouldn't have joined this government unless I thought Bibi [Netanyahu] understood he has to move forward."
But when I asked her if she agreed with President Obama's view that Israeli settlements were "counterproductive to the cause of peace", she spoke only of the need for Israel's new team to discuss their negotiating strategy.
Israeli settler leader, Danny Dayan, who was also invited to join the audience for the president's main speech, was more emphatic."
"We need more Tony Blair and less John Kerry," he explained when he sat in our office.
As he sees it, it's an approach that emphasises economic cooperation and Palestinian institution building rather than what he dismissed as the new US secretary of state's ambition to "solve it all".
But words like settlements are the ones that matter to Palestinian politicians. And President Obama's remarks on that issue deeply disappointed them.
"It's either settlements or negotiations," insisted Palestinian MP and activist Mustafa Barghouti. "Continued settlement building on occupied land will mean the death of a two state solution."
True partners?
For Palestinians who hailed President Obama's call in 2009 for a settlement freeze, his less forceful language this week was a step backwards.
During this first visit to the Palestinian territories as president, Mr Obama called for negotiations which "get out of some of the formulas and habits that have blocked progress for so long."
These stubborn gaps will now be addressed in painstaking detail by John Kerry when he stays in the region after President Obama goes home. He's made it clear he intends to spend time and effort on this most difficult of missions.
"John Kerry already knows everyone," remarked veteran Palestinian politician Hanan Ashrawi. "The Americans still have a chance to make peace but only if they stand up to the Israelis."
Doubts persist about the Israeli prime minister's commitment to "two states for two peoples" even though he used the same phrase when he stood next to President Obama.
Despite all the hugs and smiles this week, Mr Netanyahu did not echo Mr Obama's statement that Israel had a "true partner" for peace in Palestinian President Mahmoud Abbas and Prime Minister Salam Fayyad.
His own senior aides reject those doubts. "I have heard him say many times the same phrase as Ariel Sharon," said one official.
Different road to peace
That phrase used by the former Israeli leader - "It is impossible to have a Jewish, democratic state and at the same time to control all of Eretz [greater] Israel" - was also cited by Mr Obama in his main speech.
"I am optimistic on the tactical level that peace talks will resume," said one Israeli official. "But I can't be sure on the strategic level, at that moment when the crunch comes."
But he added "if the American President is passing the ball to the Palestinians, they'd be mad not to take it."
Many Palestinians, including the young student Karma, pointed to President Obama's visit to Ramallah, with an honour guard and national anthems, "as a recognition of the Palestinian state".
For Avinoam, there's a different road to peace.
"Words have power," he said, "but the key word is trust and we have failed again and again to trust each other."
For all the power of an American president's words, the real force for change will come from Israelis and Palestinians.
Barack Obama knows that.