Jordan's King Abdullah swears in new government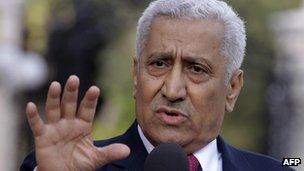 King Abdullah of Jordan has sworn in the smallest government in four decades, to be led by reformist Prime Minister Abdullah Ensour.
The king consulted parliament over the cabinet's make-up for the first time, after constitutional changes introduced in the wake of the Arab Spring.
Mr Ensour has merged several portfolios as he tries to cut spending.
Jordan is facing a $3bn deficit this year, which it hopes to cut by about a third.
The country is struggling to curb the impact of soaring fuel import costs and high social spending designed to deter the kind of uprising seen in neighbouring Arab states, the BBC's Dale Gavlak reports from Amman.
Mr Ensour, who was serving as interim prime minister before elections in January, ended fuel subsidies late last year.
The move triggered protests around the country, with some calling for the king to step down.
The International Monetary Fund demanded that Jordan abolish the subsides to qualify for a $2bn (£1.3bn) loan.
The new 19-member cabinet includes one woman, Social Development Minister Reem Abu Hassan.
"This government was born after consultations with deputies who will be part of the government in the coming months as part of the parliamentary government experience," Mr Ensour said.
"We want this to succeed in order to boost reform."
But Zaki Bani Rsheid, deputy leader of the opposition Muslim Brotherhood, said consultations with parliament had been merely "cosmetic".
"This government lacks any elements related to parliament, political parties or reform," he told AFP news agency.
"Therefore, it will not introduce real democratic reform. It will be a failure just like past governments."
Related Internet Links
The BBC is not responsible for the content of external sites.