Egyptian students protest mass food poisoning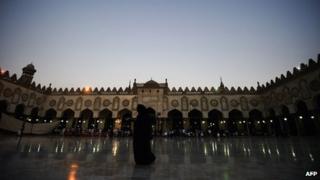 Students at Cairo's al-Azhar university are planning a second day of protests after almost 500 of them were taken to hospital because of food poisoning.
On Monday, hundreds of students demonstrated demanding the resignation of the head of the university.
According to the Egyptian health ministry all of the 479 cases of poisoning came from one dormitory.
President Mohammed Morsi has visited one of several hospitals that the students have been taken to.
The senior Egyptian prosecutor has ordered an investigation.
Basic hygiene standards are not always observed at Egyptian universities, but this incident is one of the largest cases of food poisoning in recent years.
The prestigious al-Azhar university belongs to the al-Azhar mosque, one of the main centres of Sunni Muslim learning.