Palestinian stone thrower to appeal murder conviction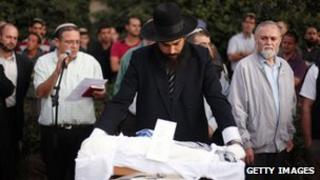 A Palestinian man found guilty of murdering an Israeli settler and his child by throwing a rock at their car is to appeal against the verdict, his lawyers has said.
On Tuesday, Ofer Base Military Court convicted Wael al-Araja for the deaths of Asher Palmer and his infant son, Yonatan, in September 2011.
His sentence is expected within days.
Judges in the case accepted that a murder charge was unusual in relation to a stone throwing incident.
There has been no precedent in a similar case in Israel since the 1980's.
However the court accepted the argument of the military prosecution that Araja intended to kill his victims and understood that throwing rocks could cause the deaths.
Araja, a taxi driver from Halhul, near Hebron admitted throwing stones but said that he did not mean to kill Mr Palmer and his child.
He was also convicted on 25 counts of attempted murder for throwing rocks on other occasions.
"I'm very surprised by the verdict. The court didn't deal with this as a case of hurling an object or inflicting damage on a travelling car - which are crimes in Israeli law," Khaled Araj, the defence lawyer told the BBC.
"They took this route instead, going for the most serious charge which can carry the maximum penalty. I think the court came under extreme pressure from the settler movement to reach this verdict."
Mr Araj added that his client intended to launch an appeal.
Car overturned
Mr Palmer and his one-year-old son lived in the Kiryat Arba settlement near Hebron and were killed close to the Halhul Junction on Route 60 after a rock was thrown from a passing taxi.
"As a result of hurling the rock, the front windscreen of the vehicle in which the father and son were travelling was smashed and Asher Palmer was hit," a statement from the military prosecutor reads. "The car veered off the road, overturned, and caused the death of father and son."
Another man who was in the car with Wael al-Araja and other men described as his associates are also being prosecuted.
Members of the Palmer family welcomed Tuesday's verdict and announced plans to sue for compensation. They said it was right that throwing rocks should be treated as murder.
At first, Israeli police denied that stones had caused the car crash in the West Bank.
However after an investigation in which they found a rock near the scene covered in blood, they concluded that the car had been attacked.