Palestinians shot dead by Israeli fire in West Bank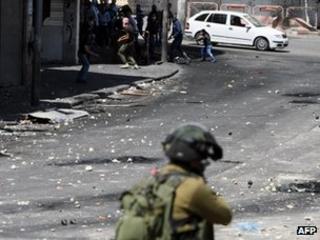 Two Palestinian teenagers have been shot and killed by Israeli forces in the West Bank city of Tulkarm after clashes between soldiers and youths.
One teenager was confirmed dead on Wednesday while the body of a second youth was found on Thursday.
The Israeli military said its troops opened fire on Palestinians who threw firebombs at a guard post.
Tensions have risen in the West Bank following the death from cancer of a Palestinian jailed in Israel.
The clashes late on Wednesday in Tulkarm, in the northern West Bank, came after a day of protests and a general strike across the territory.
Kerry visit
Palestinian medical and security officials told AFP news agency the first youth confirmed killed was Amer Nassar, believed to be aged 16. They named the second victim as his cousin, Naji Balbisi, 17.
The Israel Defense Forces said several Palestinians had attacked a guard post near the settlement of Einav on Wednesday and troops opened fire in response. It said the incident was under investigation.
The protests were sparked by the death from cancer of Maysara Abu Hamdiyeh, who was 64, on Tuesday.
Palestinian officials claim that Israel did not provide adequate medical care and failed to release him after diagnosing that his illness was terminal.
Israeli officials say care was provided, and that the procedure to allow his release on medical grounds had begun.
On Wednesday, the Israeli health ministry released the results of an autopsy on Abu Hamdiyeh. This found a cancerous growth in his throat and secondary cancerous growths in his neck, chest, lungs, liver, and spinal cord.
The head of the Palestinian Pathological Institute also participated in the autopsy, a spokesman said.
Abu Hamdiyeh was serving a life sentence for a failed bombing attack on a Jerusalem cafe in 2002.
The rise in tension and violence comes days before US Secretary of State John Kerry is scheduled to visit Jerusalem and Ramallah to try to press for a revival in negotiations that broke down in 2010.
The Israeli military has said that several rockets were fired in Gaza early on Thursday. One crossed into Israel, causing no injuries.