Egypt court rejects bid to ban Bassem Youssef TV show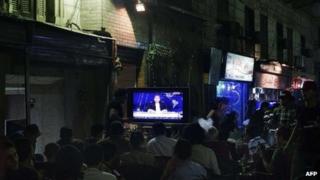 A court in Egypt has rejected a lawsuit calling for a ban on the TV programme of popular satirist Bassem Youssef.
The court said the Muslim Brotherhood lawyer who filed the suit, which also demanded the channel lose its licence, did not have an interest in the case.
Mr Youssef has been questioned over allegations of insulting President Mohammed Morsi and Islam, raising concerns about freedom of speech.
His weekly show went out again on Friday, poking fun at his situation.
The chief lawyer for the ruling Muslim Brotherhood, Abdel-Moneim Maqsoud, told the Associated Press news agency that the lawyer who brought the lawsuit, Mahmoud Abul-Enein, had acted individually and not for the organisation.
'Corrupted morals'
Mr Youssef has faced several complaints over his show El-Bernameg (The Programme), which satirises many public figures.
In some sketches, he has portrayed Mr Morsi as a pharaoh, calling him "Super Morsi" for holding on to executive and legislative powers.
The satirist was questioned by prosecutors on 31 March and released on bail pending further investigation into allegations of insulting the president, Islam and "spreading false news with the aim of disrupting public order".
The president's office insists it is not involved in the legal case.
Mr Abul-Enein had argued that the show "corrupted morals" and violated "religious principles" and that the private satellite TV channel that broadcast it, the Capital Broadcasting Center (CBC), should have its licence suspended.
Mr Youssef is a doctor who shot to fame with his witty lampooning of public figures in amateur videos posted on the internet following the uprising that ended Hosni Mubarak's rule in February 2011.
He became a household name when his satirical show - likened to Jon Stewart's The Daily Show in the US - began to be broadcast on CBC.
Mr Youssef's show aired again on Friday.
He joked that he would not talk about Mr Morsi, only the attorney general.