Egypt: Court gives Hosni Mubarak custody decision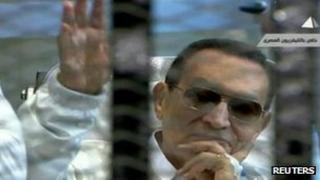 An Egyptian court has ruled that ex-President Hosni Mubarak should no longer be held over the killings of protesters during the revolution that toppled him.
However, he will remain in custody as he faces separate corruption charges.
The former leader, who is 84, is awaiting a retrial for conspiring to kill protesters in early 2011.
His lawyer successfully argued that he had spent the maximum time in prison under temporary detention.
Last June, Mr Mubarak was sentenced to life in prison for killings committed during the 2011 uprising that ended his decades-long rule, but in January a retrial was ordered because of procedural failings.
Life sentences
There were chaotic scenes on Saturday as the judge presiding over the retrial, Mustafa Hassan Abdullah, withdrew from the case citing his "unease" in overseeing the proceedings.
The case has been referred to a different court, which is expected to appoint a new panel to hear the retrial.
About 850 people were killed in the 2011 crackdown during the 2011 uprising that ended Mr Mubarak's rule.
He and former interior minister Habib al-Adly were sentenced to life in prison for conspiring to kill protesters.
But both will be re-tried after they successfully appealed against their convictions, with Egypt's Court of Cassation citing procedural failings.
Mr Al-Adly will also be re-tried for corruption charges.
Poor health
Mr Mubarak and his two sons, Gamal and Alaa, will also be re-tried for corruption charges, of which they were found not guilty the first time round.
The former leader has been in poor health since his arrest and appeared on a stretcher during his first trial and at Saturday's hearing.
Deaths during the uprising were largely blamed on the police at the time, but last week a report was leaked which implicated the army in serious human rights abuses, including the killing and torture of protesters.
The leaked chapter, reportedly presented to President Mohammed Morsi late last year, contains testimony relating to civilians detained at military checkpoints who were never seen again and reports that the army delivered unidentified bodies to coroners.
Egypt's Defence Minister Abdel Fatah al-Sissi denied the accusations, calling them a betrayal.