Bahrain opposition calls for big protests ahead of F1 race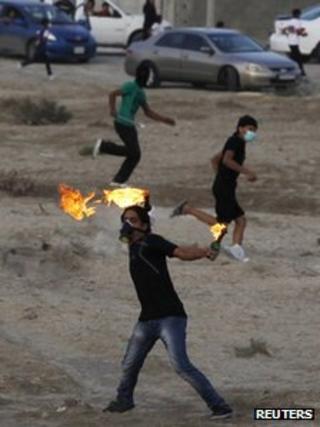 The main opposition society in Bahrain has called for a major demonstration ahead of Sunday's Formula One Grand Prix race in the Gulf kingdom.
Khalil al Marzooq, a senior Al Wefaq leader, told the BBC that the protest would take place along a major motorway, Budaiya Highway on Friday.
But he said the society will not call for protests on the day of the race.
Activists have demanded the race be cancelled due to the country's poor human rights record.
Mr Marzooq also urged all protests to be peaceful.
"We do not support any violence either from security forces or protesters," he said.
The F1 race is taking place against a backdrop of tension as unrest continues in the island kingdom.
On Tuesday, police fired tear gas and clashed with students in a raid on a secondary school in the capital, Manama.
Officers stormed the Jabreya school for boys after students staged a protest demanding the release of a colleague arrested on Monday, activists say.
Wefaq says more than 100 people have been arrested this month, many from villages close to the site of the race.
And Amnesty International has condemned what it called a "crackdown" on protests ahead of the race.
In a statement on Wednesday, the organisation's Middle East and North Africa Deputy Director Hassiba Hadj Sahraoui said:
"The authorities are trying to use the Grand Prix as a platform to show progress, with claims that the human rights situation has improved, whilst stepping up repression in order to ensure nothing disturbs their public image."
However Citizens for Bahrain, an organisation that supports the race, rejected criticism from human rights groups.
In a statement sent to journalists it argued that "the race unites people, despite political differences, after a period of unrest and sectarian tension".
But Mr Marzook told the BBC that the tension is ongoing and that a dialogue aimed at finding solutions was "stalemated".
"The government wants the world to believe the situation is normal. Bahrain is not normal. The only thing that is normal is the repression."
The country has been rocked by anti-government protests since early 2011.
On Sunday a car bomb blew up in the heart of the financial district in the capital Manama, though without causing injuries.
An opposition group calling itself the February 14 movement has said it was behind the blast.
While Wefaq and other opposition groups repeat their calls for peaceful protest, angry youths are ignoring them and routinely taking to the streets armed with Molotov cocktails.
They have set up roadblocks with burning tyres and have fought running battles with the police.
There have been almost daily clashes in Bahrain since security forces used birdshot and tear gas to quash a three-day-old peaceful protest at Manama's Pearl Roundabout on 17 February 2011.
As violence escalated 35 people, including five police officers, were killed, and hundreds more were hurt and jailed in February and March 2011.
Since then, opposition and human rights activists say more than 50 people have died, a figure which the government disputes.