Syria crisis: US steps up aid to rebels at talks in Turkey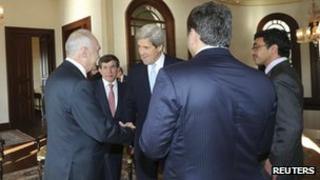 US Secretary of State John Kerry has announced a doubling of US aid to Syria's rebels and told a Friends of Syria meeting its members were committed to a peaceful transition.
Mr Kerry told the meeting in Istanbul that the US would provide Syrian rebels $123m (£81m) in new, non-lethal aid.
He said President Barack Obama was committed to a "democratic, unified, post-Assad Syria".
More than 60,000 have died in the two-year uprising against Bashar al-Assad.
'Transitional government'
Mr Kerry also announced that all aid from the 11 countries known as the Friends of Syria would now be channelled through the Turkey-based Free Syrian Army group headed by Gen Salim Idris.
The meeting in Istanbul brought together the foreign ministers of countries opposing the government of President Assad.
Mr Kerry said the meeting had brought significant advances.
He said: "The situation in Syria is horrific. It is horrible." He accused the Assad government of "using ballistic missiles against innocent people" and "using his air force to rain down terror on the people of his country".
Mr Kerry said Mr Obama had instructed him to step up efforts with the opposition and that the Friends of Syria were committed to a "mutually consented transitional government and then an elected new leader".
The rebels have been pushing for military supplies and insisted in Istanbul that any weapons they received would not "fall into the wrong hands".
The US and EU have so far refused to supply the rebels with weapons.
The Western allies are concerned that they may end up in the hands of Islamist extremists inspired by al-Qaeda.
Before the Istanbul talks, the main opposition expressed its frustration with the lack of support, urging allies to act more decisively.
In a statement quoted by the AFP news agency, the Syrian National Coalition said: "It is the moral imperative of the international community, led by the Friends of Syria, to take specific, precise and immediate action to protect Syrian civilians from the use of ballistic missiles and chemical weapons."
It also called for "surgical strikes" on positions it alleged were being used by Syrian government troops to fire missiles.
Both Damascus and the rebels accuse each other of using chemical weapons.
UN Secretary Ban Ki-moon has recently announced an investigation into the allegations, and a team of UN-led experts is now in Cyprus awaiting permission to enter Syria.