Syrians held over violence in Jordanian refugee camp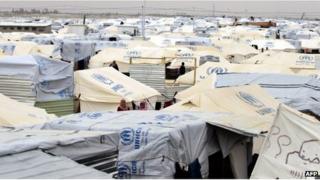 Eight Syrians have been arrested on suspicion of inciting violence at a refugee camp in Jordan, officials say.
The arrests come after an incident on Friday in which some 100 camp residents threw stones at police who would not allow them to leave the camp.
Ten police officers were injured - one so badly he had to undergo surgery, said a government spokesman.
UN officials have warned the flood of refugees fleeing Syria threatens to overwhelm those providing assistance.
One UN agency, Unicef, recently confessed it was "broke" and said it would soon need to "scale back life-saving support" at the camp.
Zaatari camp hosts 150,000 refugees fleeing the brutal civil war in Syria - far more than it was originally intended to house.
Conditions in the camp, now dubbed Jordan's fifth largest town, have deteriorated since it opened last July, says the BBC's Dale Gavlak in Amman.
There have been several riots and clashes with Jordanian police.
A military prosecutor was due to question the arrested refugees on Sunday. If convicted they could face up to three years in jail.
The number of refugees fleeing the Syrian conflict overall recently reached a million, the UN said.