Kuwait court bails an ex-MP guilty of insulting emir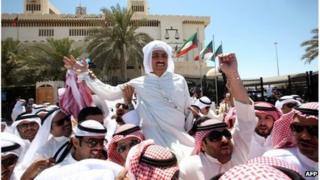 A prominent Kuwaiti opposition leader has been granted bail pending appeal against a five-year jail sentence for insulting the emir.
Mussallam al-Barrak, a former MP, was carried aloft out of court on the shoulders of his supporters.
He had refused to turn himself in last week following the verdict, leading to violent confrontations in the streets between his supporters and police.
Kuwait has cracked down on criticism of the royal family, jailing offenders.
The appeals court is reviewing Mr Barrak's conviction and sentence.
As he emerged from the courthouse, Mr Barrak told a cheering crowd: "Today the popular movement had a victory, today the people had a victory and tomorrow the constitution will have a victory."
Mr Barrak had first been detained in October on suspicion of "undermining the status of the emir".
He had warned the Emir, Sheikh Sabah al-Sabah, in a speech that he would not be allowed to "take Kuwait into the abyss of autocracy".
Kuwait has not witnessed the same scale of pro-democracy uprisings as in other Arab states, but there has been growing tension between former members of parliament and the government, which is dominated by the al-Sabah family.
Mr Barrak was arrested for the comments he made at an opposition demonstration outside parliament in October.
He had shocked many observers by publicly challenging the emir.
"We will not allow you, your highness, to take Kuwait into the abyss of autocracy," he said. "We no longer fear your prisons and your riot batons."
In February, five opposition activists were acquitted after being charged with insulting the emir on Twitter.
But other activists - including Mr Barrak and three former opposition MPs - have been convicted on the same charges, and one of the acquitted tweeters - Rashid al-Enzi - was sentenced to two years in jail in January in a different case.