EU eases Syria oil embargo to help opposition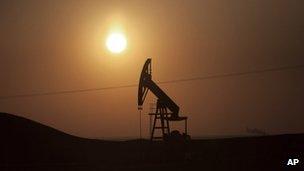 EU member states have agreed to ease an oil embargo on Syria to allow opponents of President Bashar al-Assad to sell crude.
Foreign ministers meeting in Luxembourg said they had made the decision "so as to help the civilian population".
European companies will now be able to import crude oil and petroleum products from opposition-held areas.
Each transaction will have to be approved by the main opposition alliance, the National Coalition.
Experts have warned that buying Syrian crude will be complicated because of security concerns and damaged infrastructure. It is believed oil will have to be transported by tanker to Turkey and Iraq.
'Economic reconstruction'
On Monday, the Council of the European Union agreed to ease the oil embargo on Syria "so as to help the civilian population and the opposition", according to a statement.
The governments of member states will now be able to authorise on a case-by-case basis three types of transactions - imports of oil and petroleum products; exports of key equipment and technology for the oil and gas industry to Syria; and investments in the Syrian oil industry.
The National Coalition for Syrian Revolutionary and Opposition Forces must also be consulted before any transactions are approved.
"We want regions controlled by the opposition to develop. We want to help economic reconstruction," German Foreign Minister Guido Westerwelle told reporters before the meeting.
"People will see there is a real alternative to the Assad regime exists."
UK Foreign Secretary William Hague said: "The security situation is so difficult that much of this will be difficult to do, but it is important for us to send the signal that we are open to helping in other ways, in all the ways possible."
EU sanctions were first imposed on Syria's oil industry in September 2011 in response to the government's crackdown on pro-democracy protests.
Before then, oil accounted for an estimated 25% of Syria's state revenue and EU member states purchased about 95% of its crude exports.
The International Energy Agency (IEA) estimates that Syria's daily oil production has since slipped from 400,000 barrels to 130,000. An official report published in April that has been cited by state media said oil exports had dropped to almost nothing. The government has also been forced to import refined fuel supplies to keep up with demand.
Syria's main oilfields are in the eastern provinces of Deir al-Zour and Hassakeh, which both border Iraq.
The Syrian Observatory for Human Rights, a UK-based activist group, believes most of the oil fields there are now controlled by rebel groups.
However, the state-run Syrian Petroleum Company (SPC) is still said to have access to the al-Omar oilfield east of the city of Deir al-Zour and some wells in the far north-east controlled by Kurdish militia groups.