Israel clears jail staff in Prisoner X suicide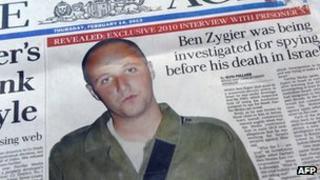 Israel's Attorney General has ruled that no charges will be brought against jail staff who supervised the detainee known as "Prisoner X" who committed suicide in 2010.
The man, named in the international media as Australian-Israeli Ben Zygier, died in a maximum security prison where he was held secretly.
A judge's investigation found evidence of negligence by the prison service.
But the Attorney General found it was insufficient for a criminal court case.
"We have found it would not be possible to determine with the level of certainty required for criminal proceedings that IPS (Israel Prison Service) officials and others involved in supervision of the deceased should have foreseen his suicide," says a statement from the office of Moshe Lador.
It does note "supervision defects" on the day that the prisoner died by hanging himself with a sheet in the shower room of his cell.
Reduced monitoring
The earlier judge's report, which was only partly published in February and has now been released in full, found there were staff shortages at Ayalon Prison which meant a special unit that monitored just two secure cells was not operating.
Instead, Prisoner X was being watched from a control room that monitored the output of 300 cameras. These did not include a crucial camera in his room. Another fault was that a monitoring diary was not properly filled in.
The Attorney General said files on the case would be passed to the prison authorities to establish if they merited internal disciplinary action.
Australian reports claim Mr Zygier was a spy for Israel's intelligence service, Mossad, detained for security offences.
There has been media speculation that he leaked information which led to the unmasking of secret Israeli informers in Lebanon.
In Israel, where reporting restrictions remain in place, there has been no official comment on the espionage claims. "
"Difficult message"
Mystery still surrounds many aspects of this case, says the BBC's Kevin Connolly in Jerusalem, where Mr Zygier is still referred to as Prisoner X in Israeli government documents.
However much more is now known about what happened in the last hours before he took his own life, our correspondent says.
The judge's report includes details from the detainee's last meeting with family members on the day he died.
It says that his wife gave him a "difficult message" and an intelligence sergeant noticed afterwards that he was "visibly upset and crying".
The report also states that the prisoner was seen by three different psychiatrists on 14 occasions and had met social workers 57 times during the nine months of his incarceration.
The psychiatrists did not put him in the highest risk category for suicide and ordered for him to be monitored at least every half hour by cameras in his cell. However it is noted that the detainee attempted suicide twice before being taken into custody.