Key witness testifies in Avigdor Lieberman trial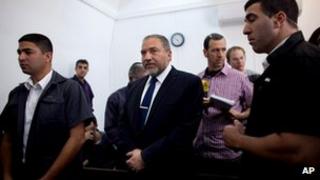 A key witness in the trial of Israeli politician Avigdor Lieberman says he does not remember asking for the former foreign minister's help to secure an ambassadorship.
Prosecutors allege that Mr Lieberman intervened to get the witness, Zeev Ben Aryeh, appointed ambassador to Latvia.
They say it was a reward for Mr Ben Aryeh after he had tipped Mr Lieberman off about an earlier investigation.
Mr Lieberman faces charges of fraud and breach of trust, which he denies.
He stepped down after the charges were filed in December.
At court in Jerusalem on Thursday, the prosecution asked Mr Ben Aryeh why he had asked for Mr Lieberman's help in getting a job.
"I don't recall that I asked for help from Mr Lieberman," he replied, according to a report in Israeli newspaper Haaretz.
If found guilty, Mr Lieberman, who heads the Yisrael Beitenu party, would have to resign as a member of parliament and face a ban of at least seven years from political life. If acquitted, he says he expects to return to his job as foreign minister.
Since Mr Lieberman's resignation, Mr Netanyahu has served as interim foreign minister.
The earlier investigation against Mr Lieberman relates to a financial scandal dating back more than a decade.
Prosecutors decided not to press charges including money-laundering and bribery in December, saying they had insufficient evidence to proceed.
Mr Lieberman is one of Israel's most powerful politicians. Seen as to the right of Mr Netanyahu, he has been a harsh critic of the Palestinian Authority and its leader, Mahmoud Abbas.