Iraq: Deadly car bombs hit Shia provinces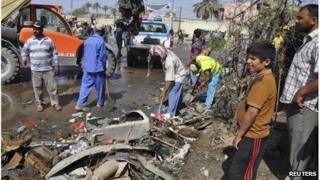 At least 18 people have been killed and dozens injured by five car bombs in Shia-majority provinces of southern Iraq, officials say.
In the deadliest attack, two bombs went off in the town of Amara, killing at least nine people and wounding dozens.
An army raid on a Sunni anti-government protest camp last week has sparked a wave of violence.
On Saturday Iraqi Prime Minister Nouri Maliki said "evil" sectarian conflict was returning to Iraq.
Mr Maliki said sectarianism was again plaguing Iraq "because it began in another place in this region" - an apparent reference to Syria.
The blasts in Amara struck a market and a place where labourers had gathered to look for work.
Other bombs went off at markets in Diwaniyah and Karbala, and in a Shia neighbourhood of the Sunni-dominated town of Mahmoudiya.
"I was preparing to go to work when a big explosion shook my house and broke the glass in all the windows," Woody Jasim, a resident of Diwaniyah, told Reuters news agency.
"I ran outside, the explosion was near my house and bodies were everywhere."
The past seven days have seen clashes in several towns and cities, sparked by the raid on the protest camp near the northern town of Hawija on Tuesday that left 50 people dead.
The protesters were calling for the resignation of Mr Maliki, a Shia, and denouncing the authorities for allegedly targeting the Sunni community.
More than 200 people have died in the recent violence between Sunnis and Shia, which is at its most intensive since the withdrawal of US troops at the end of 2011.