Iraq PM Nouri Maliki's bloc leads provincial elections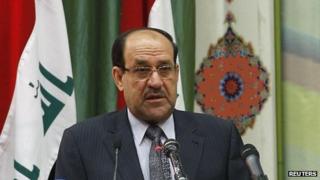 The Shia-led coalition led by Iraqi PM Nouri Maliki has come first in seven of 12 provinces, including Baghdad, in elections held last month.
Its main rival, the Sunni-dominated Iraqiya bloc, suffered poor results.
Observers say the results give an indication of political support ahead of next year's parliamentary elections.
It was the first local council vote held since the departure of US troops in late 2011. Widespread violence marred the run-up to the election.
Tensions are high between Iraq's Sunni and Shia, amid claims by the majority Sunni Arab communities that they are being marginalised by Mr Maliki's government.
Dozens of people were killed in bombings targeting mainly Shia areas and 14 candidates, most of them Sunni, were murdered last month.
Polling stations were also attacked and the government was forced to postpone the vote in two Sunni-dominated provinces.
The UN described April as Iraq's deadliest month since 2008.
'Acts of terrorism'
Saturday's results showed Mr Maliki's State of Law coalition won crucial votes in Baghdad and the oil-rich Basra province.
It also led the polls in Karbala, Babil, Diwaniyah, Dhi Qar and Muthanna, and tied for first in Wasit province with its Shia rival, the Supreme Iraqi Islamic Council.
Meanwhile the Iraqiya bloc, led by Ayad Allawi, picked up no more than three seats in any of the provinces, according to Iraq's Independent High Electoral Commission.
Almost 14 million Iraqis were eligible to vote for more than 8,000 candidates competing for 378 seats in provincial councils on 20 April.
Election officials put the turnout at around 50%.
Iraqi forces took charge of security in an election for the first time since the 2003 invasion.
Although levels of violence have dropped since the heights of the insurgency in 2006 and 2007, unrest is currently more widespread than at any time since the US military withdrawal.
April was the country's deadliest month in five years, with a total of 712 people killed in "acts of terrorism and acts of violence", the UN mission in Iraq said.